Tulips. A spring-blooming perennial flower. The world's third most popular flower, after the rose and the chrysanthemum. Indigenous to areas of North America, Europe, Africa, and Asia. With around 100 species, and 3,000 cultivated varieties.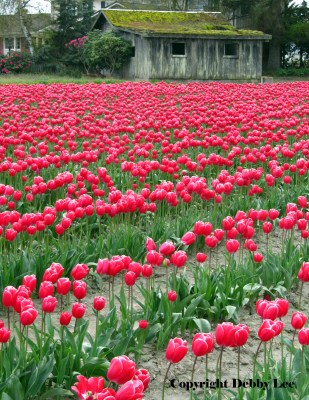 While red is the predominant color, tulips can be seen in a wide variety of shapes, heights, and colors, except pure blue. The classification of tulips is based on the timing of their blooms, either early, mid, or late-season, anywhere from March to May. Once in bloom, tulips have a life span of three to seven days.
Tulips are most widely associated with The Netherlands, which has the world's largest permanent display. The popularity of the tulip back in the 1600's created a "tulip mania," where the value of the tulip was so expensive, that it actually became a form of currency.
The colors of tulips have symbolism. Yellow can represent cheerful thoughts and friendship; white can signify forgiveness; purple can symbolize royalty; pink for perfect happiness and care. Red is for perfect love.
Tulip festivals happen around the world. This past weekend we went to the annual Skagit Valley Tulip Festival, about an hour's north of Seattle. Fields and fields and fields of colorful tulips in bloom. I was walking through a rainbow of tulips. While I tiptoed, I photographed and played with the settings on my camera. Landscape mode and foliage mode; color swap and color accent modes; and even a fish-eye effect.
Here's to perfect love…
Sweet Travels!
Information on tulips from:
http://www.tulipfestival.org/
http://en.wikipedia.org/wiki/Tulip
http://www.theflowerexpert.com/content/aboutflowers/exoticflowers/tulips
http://www.buzzle.com/articles/facts-about-tulips.html
http://www.teleflora.com/tulips/flowers-plants/tulip-detail.asp
http://www.buzzle.com/articles/tulips-meaning.html