It's not. It's not. It's not.
When Wanderlust and Lipstick Blogger, WanderMom, wrote of her adventures of taking her son to the King's Cross railway station in London so that he could visit the infamous Platform 9¾, I thought to myself, "Hey, I've been there too, and I want to blog about it!"
I also thought, "Hey, kids aren't the only Harry Potter fans around. Some of us adults are fans, too."
Nearly five years ago, when I was on my five-month solo European journey, I experienced the same construction work going on at the railway station as WanderMom and her son did. I was also redirected to not the logical place that Platform 9¾ should have been located. But it didn't matter where it was, really.
The point was that I, an adult Harry Potter fan, went to the place where the children of the wizardry world, especially Harry himself, and his friends Hermione and Ron, disappear from the Muggle world, through a brick wall, in order to catch the Hogwarts Express that takes them to the Hogwarts School of Witchcraft and Wizardry. How thrilling!
(I have always wondered if the woman in the photo with me, who had been standing there for quite some time, was waiting for the opportune moment to disappear through the brick wall herself…)
As I was traveling around Europe, which was around the time that the "Prisoner of Azkaban" movie was being released, this Harry Potter fan took several pictures of the movie poster from various countries, including Croatia, Italy and France.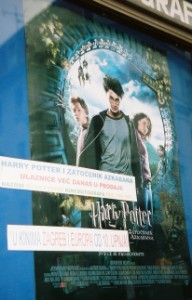 Croatia

Italy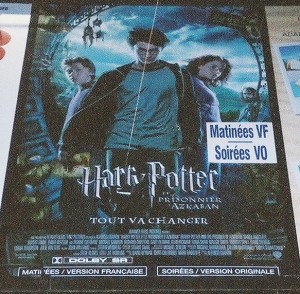 France
And, on July 19, 2004, I even went to a movie theater in London to see the movie!! Now is that a Harry Potter fan, or what!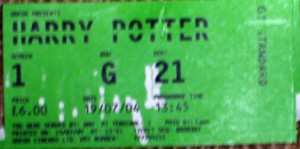 "Why does it have to be follow the spiders! Why can't it be follow the butterflies!" Ron Weasley
Sweet Travels!
All photos by Debby