Let's face it: the airport can be a really stressful place. Whether you are late for a flight or have a 6 hour layover with absolutely nothing to do, the more options at an airport, the easier and more relaxing your journey will be.
One way to spend your time and arrive at your destination much more refreshed is taking advantage of an airport spa. Many of the larger airports (and the ones you are more likely to have a layover) have great options for airport spas. Check out the top 5 list below to find out what they offer and more importantly, where you can find them.
XpresSpa is one of the largest airport spa chains. It is available in many airports all around the country, and actually all around the world. The spa has more than 50 locations in many airports. It first opened in 2004 and offers walk-in appointments for travelers. According to the site, their most sought after treatments include foot massage (no brainer from all that walking in the airport), neck and back massage (my personal favorite), mani-express, tension eliminator, and pedi-express.
You can find XpresSpa at JFK, PHL, PIT, MIA, MCO, ATL, RDU, LAX, SFO, DEN, SNA, ORD, MSP, LAS, DFW, IAH, SLC, AMS (airport codes are very easy to look up – and I want to give you an inclusive list, so it's easier to just list the airport codes)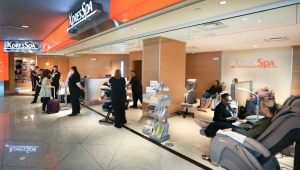 Massage Bar is another one that offer quick relaxing experiences for travelers on the go. There are foot and seated chair massages and the therapists are all licensed professionals, so you know it's going to be worth the coins you dish out. Massage Bar also has a large retail presence where you can buy your own products that are travel friendly and good to combat the dry skin you are inevitably going to get while on the plane. Massage Bar has quite a few locations around the country, including SEA, BNA, IAD, PIT, SMF, CMH, CVG.
Terminal Gateway Spa is all about transforming the airport spa experience. They want to be on the cutting edge of new technologies and an even more relaxing experience for the busy traveler. They say they have worked with well-traveled people to help create the perfect experience to emulate some of the best spas in the world. It's a tall order, but they are growing quickly and positioning themselves in key airport. Terminal Gateway Spa has individual rooms as opposed to a large common area for treatments. They also have trained therapists and offers a wide range of services depending on how much time you have. They also offer treatments for those spending a lot of time at the airport, including 45, 60, or 90 minute full-body massages. A 60 minute massage is just over $100. Terminal Gateway Spa is currently located at CLT, ORD, and MCO.
Be Relax is the place to go if you are looking for a good airport spa outside of the United States. Be Relax first started in 2003 opening in Paris at Charles de Gualle (CDG) airport and moving internationally to six countries in 10 different airports. Their mission is to make sure travel is more relaxing for people on both domestic and international trips. They also offer products customers can take with them after their treatment. Be Relax is currently in France, Germany, UK, Italy, United Arab Emirates, and USA (BOS, JFK, BWI, DTW, SAN)
JetSetter Spa is located at the Miami-Dade International airport, with a sister spa at Boston's Logan Airport. This particular spa has a huge menu, including 25 different treatment options. There is a 20 minute "Breeze" facial that allows travelers with limited time to get a facial in just 20 minutes. If you happen to have a delay or a long layover, there is an hour-long package that includes a facial, pedicure, and massage – all for just $80. The great thing about this spa is you can also use one of their "sleep pods" and catch up on some zzz's while you wait for your flight.
Photos Courtesy of: Be Relax, JetSetter Spa, Terminal Gateway Spa, Massage Bar, XpresSpa Social Media