I love reading through skier and rider blogs. It's a great source of inspiration and true reminder of why we just can't quit it.  A particular post caught my eye this week, hailing from yobeat.com. Primarily a snowboard forum for thoughts, news, videos and satire, it really got me thinking about life lessons I've taken from my experiences as a skier:
1. You take what the mountain throws at you. No choice.
Ah, the zen factor. Without wanting to get too touchy feely, blazing down an un-groomed trail is a half-decent metaphor for life. Sometimes it goes smoothly, other times there are unforeseen elements that can send you reeling. One just learns to feel it out, getting better and better with each turn.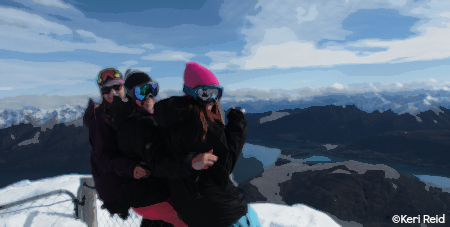 2. It's more fun with friends.
They say misery loves company, but the opposite rings truer to me. I get major sad face when I ski by myself, almost inevitably. There is nothing better than spending the day laughing and playing with others and reliving the highlights, beer in hand. In the end, that's really what this crazy world is all about: sharing great moments with your nearest and dearest.
3. Make what you love a priority.
The buck could stop here. I am proud to say that skiing and working in the ski industry makes me endlessly happy. Sure, it's not always glamorous, but it fulfils me more than I thought possible. There are countless people out there slugging it out at a life they hate. I'm not naive enough to think that all people have the luxury of simply choosing to live exactly the way they want to. Let's be real: you couldn't conceivably spend your days lounging in your underwear, binging on Netflix and expensive cheeses… or could you (she says, stroking her imaginary goatee)? However for those who do, let me say this loud and clear: you have one life, live it.
What has skiing taught you? Share your thoughts in the comments below.
Stay up-to-date on all things snow by following me on Twitter or RSS/email.
Winter is coming,
K