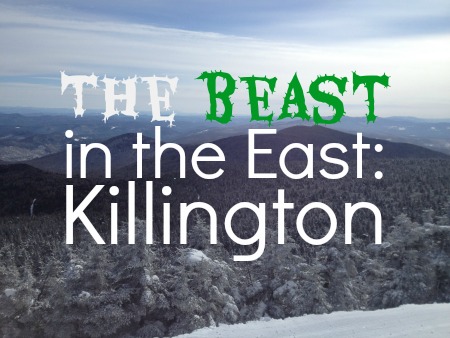 With the longest ski season and the second largest vertical drop in the East, Killington (VT) truly lives up to its nickname: The Beast. As the unofficial party mountain of New England, there is no shortage of fun, snowy times including live music, ski bum races and spring celebrations (Pickle Barrel anyone?). Here are a few more reasons to visit this monster of a mountain:
1. Heart attack inducing steeps
Maybe all the ski lodge food this winter has slowed me down, but charging the Outer Limits had me hanging over my poles, gasping for air. The steady, unrelenting pitch and chopped powder offered a challenge to both my skiing skills and stamina. Might be time to hit the running path again.
2. Stunning dinning
Take a gondola ride up 4,241 feet to the Frank Lloyd Wright inspired Peak Lodge. On a clear day, you can see Okemo and even Mount Washington. Pair the stunning views of the Green, White and Adirondack mountains with the farm to table concept for an experience like none other. My most recent trip, I enjoyed a piping hot bowl of truffled cheese tortellini, prepared right before my eyes.Walking into the Peak Lodge is like a breath of fresh air, truly differing from the average ski lodge experience with its modern open floor plan.
3. Green initiatives in a white wonderland
It's not everyday that you can sit on a toilet that runs on recycled waste water. True, the unnatural blue twinge may be off putting, but it's one of many sustainability programs that have made Killington the Greenest Overall Resort in Vermont. Yay for efficiency!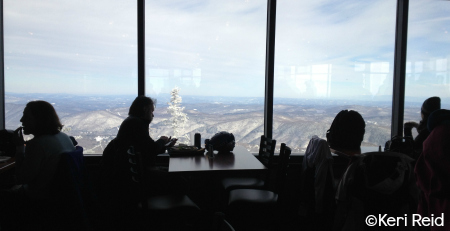 4. Not one, but two gondolas
With the freakish cold in the East this season, the ability to ride up the mountain sheltered from the wind is pure luxury. Hitching a gondola ride is one of many ways to survive those brutally frigid days: check-out my Tips for Staying Warm on Glacial Ski Slopes for more ways to stay cozy.
Have you been to the Beast? Share you love for this eastern mammoth in the comments below.
Stay up-to-date on all things snow: follow me on Twitter or RSS/email.
Winter is coming,
K