I am guilty, like many other people, of aimlessly scrolling through my social media many times a day. Mostly giggling at the many memes and gifs that accurately represent parts of my life and occasionally finding something that is really helpful.
A couple weeks ago one of the hundreds of travel related accounts I follow posted a photo of being at a cereal cafe in London, UK. It instantly caught my attention. I am obsessed with cereal and believe in its overall misrepresentation as being only a breakfast food. I had to find this cafe immediately.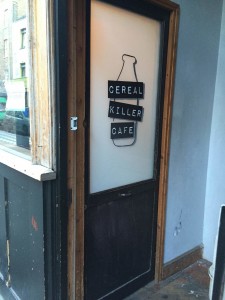 Luckily, a week later I was called to go to London. As soon as I arrived I grabbed a map, my walking shoes and my 'looking to stuff my face with loads of sugar' mentality. "Cereal Killer Cafe" is located in the Brick Lane district of East London. It took me about an hour by train to get to Shoreditch High Street Station and another hour to basically walk down the street. You see, this area while beautiful and charming, is a little confusing to navigate.
After walking in circles and then in a straight line up and down Brick Lane, I finally asked a couple locals and BAM! there it had been the whole time. The sign is not huge, and I am also navigationally challenged which does not make for a great combination.
All was well as soon as I stepped in. The walls were lined with boxes and boxes of cereal. Over 120 different types from around the world that you can pair up with 30 different types of milk and 20 different toppings. Think of the possibilities.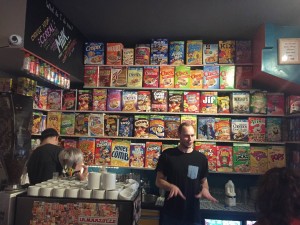 It took me a solid 20 minutes before I could contain my excitement and actually place my order. I grabbed my spoon, my bowl of cereal and sat down amidst cartoon playing TV's and general kid-like ambiance.
It may have taken me an entire afternoon to find this place, but boy was it worth it. Next time I'm getting two bowls.
Cheers from 30,000 feet
@elzzster