I've done a lot of questionably safe things. Nothing too crazy, but the occasional, "oh that could have ended badly". A couple layovers ago in Mexico City, I did a seemingly normal activity that resulted in one of the scariest moments of my life. Let me set the scene for you.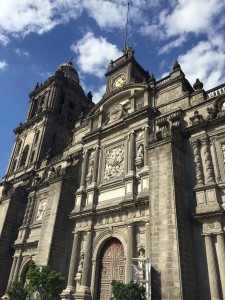 It was a sunny afternoon in the city and I decided that I would finally check out the giant Mexico City Square. The Zocalo to be exact. I had never been and I was curious to see what many call the heart of the city. I had read that it was one of the biggest squares in the world (Justin Bieber even performed there – if you are into that). So I hopped on the crowded subway and made my way over.
Walking out of the station I was instantly overwhelmed. I had never seen so many people in one place in the middle of a weekday afternoon. I'm not normally intimidated by crowds, but this was something else.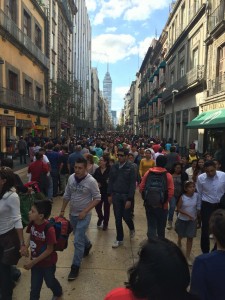 I started weaving through the tourists and locals to get a glimpse of the sights. The National Palace and Mexico City's Cathedral truly were beautiful to see in person. They were grande and full of detail. I wandered around until it was time to head back and jumped back on to the subway.
Midway through my journey back on a packed subway car, I heard a loud bang. Followed by what felt like our car coming off the track and sparks flying all around us. We were jolted around and landing on top of each other. I remained calm until I could hear screaming and realized I wasn't the only one that thought something was wrong.
For a couple more minutes we were thrown around and the screams intensified. I still hadn't made a single noise, but my brain was yelling. What will my parents do? How will they find out? Why didn't I just walk back? I don't want to die! It felt like we had been there for hours, but it was actually just under a minute. The subway car finally stopped and everyone slowly got up.
At the next stop I ran out and never got back on. Aside from the instant panic, no one else seemed fazed by this. I started to wonder if I had overreacted and that it wasn't that big a deal at all. But it was something. For me, in that moment, I was scared enough that I thought it was potentially the end. Whether or not it was actually a big deal aside, that fear was strong enough and something I will remember for the rest of my life.
The few people I have told about this event have asked me over and over about whether or not this would deter me from travelling. Absolutely not! This could happen anywhere and it's an experience that while I will never forget, it will be slowly overshadowed with millions of positive memories.
Cheers from 30,000 feet,
@elzzster