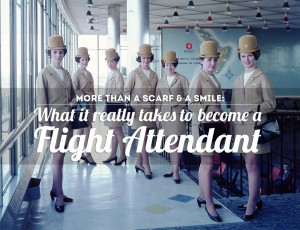 A couple of flights ago a passenger stopped me mid service and asked, "did you study stewardessing in university?" And while my initial instinct was to respond with something sarcastic along the lines of "no I actually majored in magic", I stopped myself as I realized he was genuinely asking.
He wasn't trying to make a joke, or give a not so subtle jab, he really wanted to find out what exactly becoming a Flight Attendant entailed. So, I figured, if there is one curious person out there, there must be many. Or at the very least, two. So for that one other person out there that has always wondered what happens before the uniform comes on, I am about to blow your mind with information. Buckle up..(hehe get it? "Buckle up")
Also check out: Can You Drink Your Own Alcohol on a Flight?
The Interview
Easy right? NOT. I had waited years to see a posting come up and when it finally did, I waited in line for 10 hours with thousands of other people in hopes of getting a shot. It felt a lot like auditioning for American Idol, except I was the only one singing and no one seemed to appreciate it. When I finally made it to the front of the line, I spent the next couple hours doing a written test, face to face interview and then a language proficiency exam.  This was just day 1.
Once I passed this step, I was off to another full day of interviews, workshops and even more waiting around. I successfully passed round 2 and all that was left was one more afternoon where doctors deemed that I could hear, see, and move at the appropriate levels. I was on my way to training!
6 Weeks of Training
When I started my initial flight attendant training I was 23 years old. I had completed a degree in a competitive program and thought my long hours of studying were over. I was definitely not prepared for what an intense month and a half I signed up for. Full time class hours, daily tests, and almost impossible grooming standards.
There was a constant marking system where you could be kicked out for things like chewing gum with your mouth open, cursing, or arriving even a minute late, to name a few. Did I mention that it was intense?
For 6 full weeks I went home and studied harder than I had ever studied in University. There was nothing that was common sense about all this information. It was pure memorization and hours upon hours of practise practise practise. The obvious bits where knowing the ins and outs of all the aircrafts and what to do in emergency situations. What surprised me where the days spent setting up life rafts and using the slides (secretly those were also the most fun days).
What many people believe is weeks spent learning to apply lipstick and get your drink order wrong, was actually a highly concentrated and frankly, very hard 6 weeks of trying to make saving people in many different situations something I could call upon quickly. There was actually very little to do with service as most of that comes with experience on the job. Or as most complaint letters go, never shows up at all.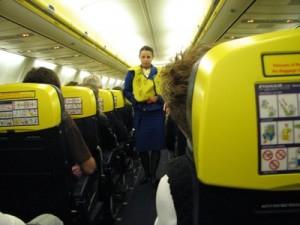 So there you have it. Now is the time you manually lift your jaw into it's closed position. It is not all smiles and origami style tied scarves. The flight attendants on your airplanes have all been through some style of this intensive training. The constant is that it is long, difficult and most likely, more intense then you would have imagined.
I hope that I have taught you something new! Or at the very least, passed your time while you avoided that sketchy person on the bus.
Cheers from 30,000 feet
@elzzster
**********
Photo Credits:
Flight Attendants: Archives New Zealand via flickr
Simulator: Derin via flickr
Safety Demo: Jason D'Great via flickr