It is a very exciting day when I get to travel to a city I have never been to. There are only so many destinations that we fly to, so I am often left to explore the same city over and over again. Trust me, I am not complaining, but this week was extra exciting as I have never been to Seattle. Here is what I did with my (almost) one day in the city!
I arrived around noon in the afternoon and after a quick Starbucks run, I was caffeinated and ready to take on the city. It was cloudy when I left my hotel, but soon afterwards the sun came out and I was taking off layers. I later learned that this is common in Seattle and that it's a smart move to always carry around your sunglasses. Noted!
I started off at Pike Place Market – probably the city's most famous tourist destination. Located right by the water, it is an exciting place to spend a couple hours wandering around. Once you pass the hoards of people at the main entrance trying to catch a glimpse of a flying fish, the rest of the market is a pleasant stroll. My favourite was walking by the flower vendors. It took everything I had to not buy 10 bouquets for myself.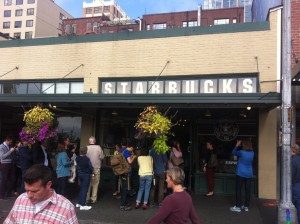 Located right outside the market you can also get a glimpse of the very first Starbucks location. Don't worry you will know exactly which one it is, as the line up streaming down the street gives it away. I was happy to take my pictures, peek through the window, and then buy my latte at the Starbucks around the corner. To each their own, of course.
Next stop was the famous Gum Wall which is not as gross looking as it sounds. I may be a little crazy here, but the particularly dense areas kind of look pretty. Not pretty enough to touch of course, just pretty enough to take pictures in front of, at a safe distance.
It now came down to dinner and being on the coast, I thought it was a perfect time to try some oysters. It is true, I had never tried them. I have though been telling people I hated them because frankly I never thought I would enjoy something so slimy. A friend and I dined at Elliot's Oyster House, which is a place that is not only scenic, but more importantly, delicious. Everything we had off the menu was mouthwatering. Especially the crab cakes and Oysters Rockefeller, my two favourites. I even got to leave with a pin stating I had successfully slurped my first oyster, that I proudly wore the rest of the night.
The night would not be complete without a stroll through the city to catch a great shot of the Space Needle and of course, a couple drinks to check out the nightlife. It wasn't the busiest night of the week, but I did get to try my new favourite drink – The Moscow Mule, which is made with vodka, ginger beer and lime. Be careful, as they are very addictive.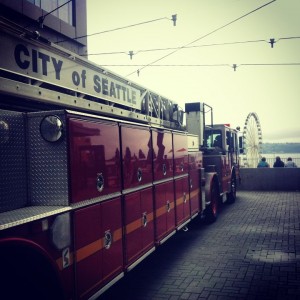 That's when my lovely day in Seattle came to an end. It was time to sleep and dream about all the amazing things I would see on my next visit to this beautiful city.
Cheers from 30,000 feet
@elzzster