Vancouver's beauty never seems to amaze me. Literally every time I go I am shocked at how pretty it is. If you haven't been, I urge you to go.
It is so beautiful in fact that every time I have the opportunity to go I somehow find another place to become obsessed with. This last layover is no exception. About 45 minutes outside of the downtown core is a place called Lynn Canyon Park and last week I got to explore it.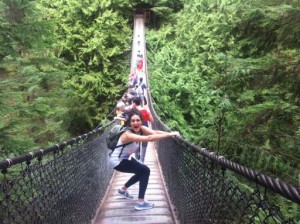 A friend of mine had recommended it and gave us brief directions on how to get there. A sea bus to North Vancouver and then a local bus headed to the Park. Short, easy and more than worth the time it took. We started off by walking the Suspension Bridge that hovers 50 metres above the canyon. It is the perfect place to terrify any friend that has a fear of heights. They especially love when you give it a nudge to swing back and forth.
The park is 617 acres of forest and has a huge selection of walking and hiking trails to choose from. We decided to just roam around and enjoy the day on a leisurely stroll. That's when we met the giant rocks. The little kid in me had to jump from one to the other instead of taking the outlined path. Secretly, I also pretended that underneath was hot lava, but no one needed to know that.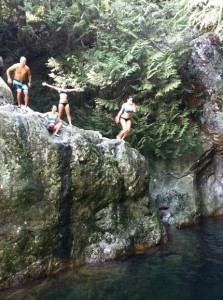 We continued to skip along enjoying the fresh air and amazing views and I really believed nothing could be cooler than this. I was wrong. Cue waterfalls and swimming holes. It took me a minute to digest that this natural beauty was so close to the city I just left. It didn't seem fair.
We spent the next couple hours jumping off cliffs, swimming to waterfalls and freezing our butts off. (It is glacier water after all). Then we walked a little further to where the real daredevils where. Jumping off bridges 30 feet and higher into restricted pools. I didn't last long here as I started to feel like their mothers yelling warnings at them from above.
We walked back drying ourselves along the way and caught the bus back into the city. It was a couple hours in paradise and less than an hour from the busy city. Consider me jealous Vancouver.
Cheers from 30,000 feet
@elzzster