Sleep may be last on your list at Sleeping Lady Resort. Not that the beds aren't uber comfy. They are. And once my head hit the pillow, I was easily lulled to sleep. But–fair warning–you might find it hard to pull yourself away from the myriad adventures that await if you book a visit to this bucolic mountain resort in Leavenworth, Washington.
First–location, location, location. Leavenworth, a Bavarian village, is tucked into the Cascade Mountains. For the active vacationer, opportunities for white-water rafting, biking, climbing, hiking and downhill and Nordic skiing abound. Looking for a gentler getaway? Seek out the local wineries and breweries or check out the schedule at Icicle Creek Center for the Arts where you can watch a movie, listen to opera, jazz and  chamber music, or enjoy local theater. I was lucky enough to catch a mind-blowing performance by Flamenco Vivo, a world-class flamenco group from New York City, at the Snowy Owl Theater.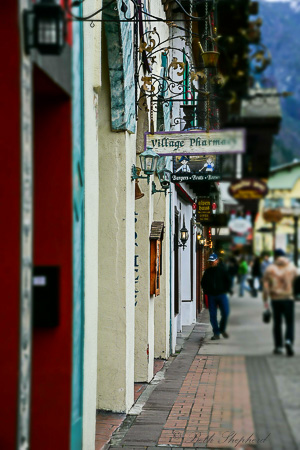 Then again, if you never want to leave the resort during your stay, you don't have to because Sleeping Lady offers everything you need to have a stellar vacation. Right there.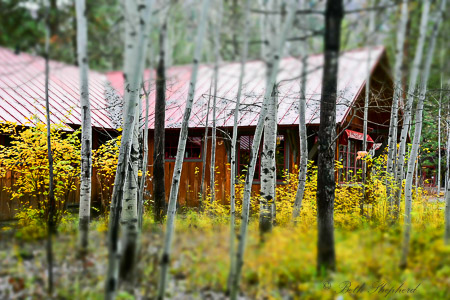 The resort is situated on Icicle Road just a few miles outside Leavenworth, not far from the Wenatchee River. Its name comes from the mountain profile that rises above the narrow valley. Sleeping Lady has a long history, beginning in the 1930s to 1940s when the site was known as Camp Icicle and home to the 983rd company of the Civilian Conservation Corps (CCC) with barracks and buildings housing 200 men.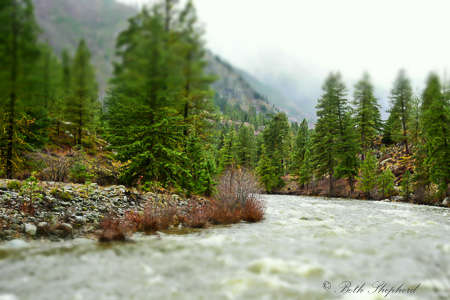 In the 1940s to 1950s, the cabins and land were sold and became a private ranch called Icicle River Ranch where "summer ranchers" stayed, until it went up for sale again in 1957. The new owner was the Yakima Diocese of the Roman Catholic Church. Renamed Camp Field and run by the much beloved Father O'Grady Camp Field, a camp for young people ages eight and up, thrived for nearly thirty years. When Father O'Grady died in 1983 and the property was sold once again, Harriet Bullit, who had been a longtime neighbor, became the new owner. She created the environmentally friendly resort Sleeping Lady is today. More recent restoration and renovation of the property and buildings took place in the mid-late 1990s.
What you'll find when you visit is a montage of elegantly rustic guestrooms nestled throughout the grounds, interspersed with buildings and outdoor facilities that include: a sauna, woodland rock pool, library, fitness room, play barn (with a fantastic puppet theater and woodland animal puppets!), chapel, gift shop, mercantile, coffee shop, bar, organic garden and the Aspen Leaf Day Spa.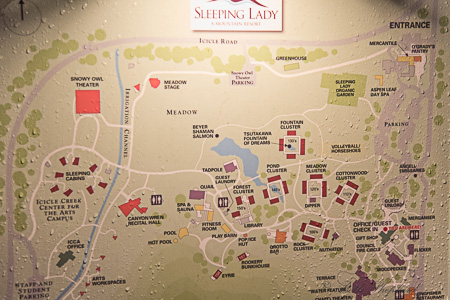 Sleeping Lady also offers all manner of packages from yoga to birding, fly-fishing to sleigh-riding. That's right–Over the river and through the woods, a sleigh ride package. For the young, or young at heart, there's onsite volleyball and horseshoes, pool, foosball, table tennis…and don't forget the puppet theater I mentioned for the wee ones.
Several options for lodging are available. We stayed in a loft room, but could have chosen an alcove room (great for families), the Rookery with double-decker bunk beds, or romantic and private stand alone Eyrie cabin. There are even six Canine Companion rooms (just don't tell my cats).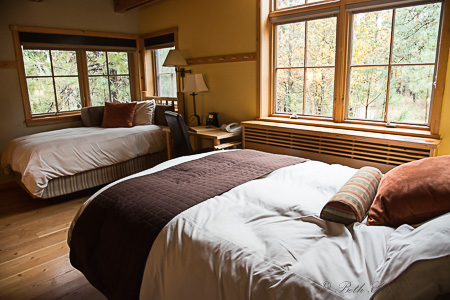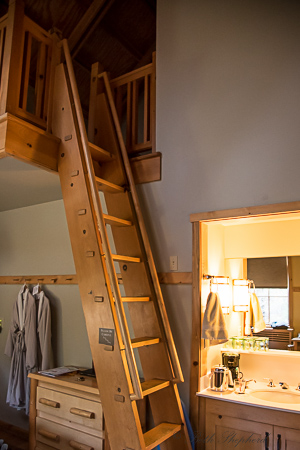 Then there's the food. Ah, the food. If all the activities mentioned above pique your hunger, you have several choices for places to quell the rumbling in your belly and quench your thirst. We ate our dinner and breakfast at Kingfisher, a lodge-style restaurant and wine bar with exposed wood beams, river rock, and spectacular views of Icicle Canyon. The Grotto was hopping until late in the evening and guests were ordering up wine, beer and spirits, and O'Grady's is where you'll want to grab your morning espresso or hang out and dine al fresco when the weather warms up.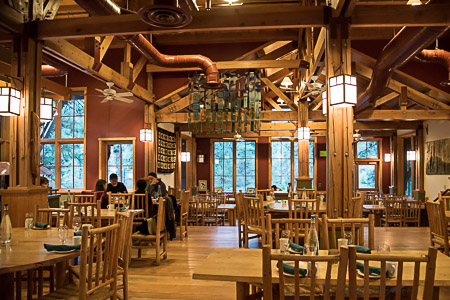 How does Snake River Farms Wagyu top sirloin sound? Or maybe grilled swordfish with braising greens, rainbow carrot, coconut milk and lime? Locally farm-sourced organic fruit? Mixed greens? Couscous? Curried winter squash and root vegetable soup? And don't even get me started on dessert. Lemon posset, key lime tarts, vegan vanilla cake. Each of the locations offer an delectable selection along with gluten-free and vegetarian options too.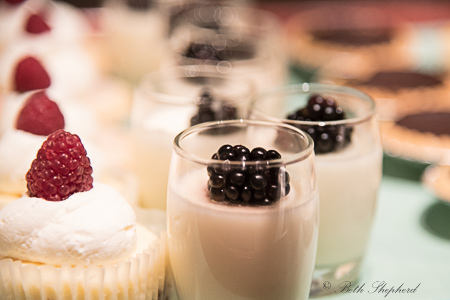 And art! Awesome art. Like the Chihuly Icicles straight out of Frozen, an Evil Eye Tree, Soul salmon who "swim" along the periphery of the resort, the Tsutakawa fountains and so much more. My travel companion and I brought one of the 'Self-guided Art Walk' brochures along with us and took a leisurely post-breakfast stroll to discover art tucked into woodland corners and log buildings all around the resort.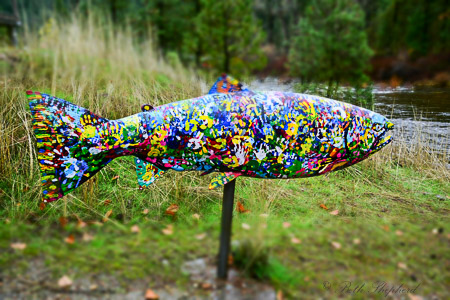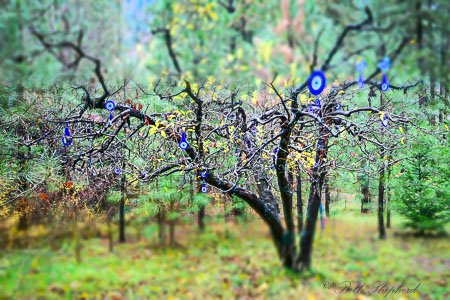 Are you sleepy now? When the time comes a hand-hewn log bed, with sumptuous sheets and a cozy down comforter, will call your name. Which–after a long and lovely day–is exactly what happened to me!
Sleeping Lady Resort perfect for special weekends, honeymoons, anniversaries, girlfriend getaways, family gatherings, weddings and corporate retreats. Book online here or call  (509) 548-6344.
Take the road less traveled, Beth
My stay was provided by Sleeping Lady Resort, but all opinions expressed are my own.