Royal Robbins Ponte Dress is the LBD (Little Black Dress) that goes everywhere. This is the dress for you if you like to travel and want to bring a dress that won't wrinkle, can be worn with sandals or boots, dressed up to go out to dinner or down to take a stroll in the city. And look chic doing all of the above.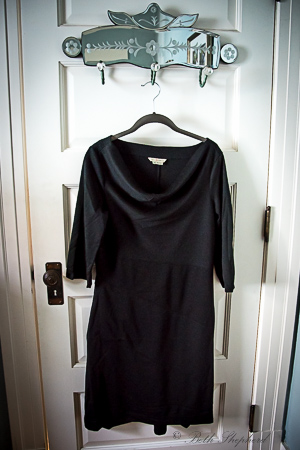 Which is exactly what I did when I packed up my Royal Robbins Ponte Dress and headed 3,000 miles across the country. There's the dress rolled up in my suitcase on the right.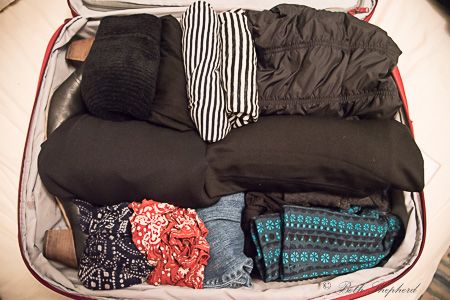 And here's me in my LBD ready for dinner out in upstate New York. I like the way it skims my body. Simple and sleek, just as a LBD should be!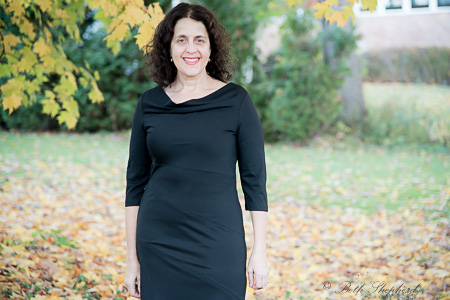 My Royal Robbins dress is made of ponte double-knit with just the right amount of stretch to feel comfortable bending and moving, but still able to maintain its shape when you take it on the road. 3/4 length sleeves and a moderate fabric weight means you can wear this dress spring, summer, fall and winter. It even has UPF protection (ultraviolet A and UVB light) and SPF 50+ too. Versatile! And any LBD worth its salt needs to be versatile.
Classic by itself but easy to change up the look–the cowl neck is the perfect silhouette for adding a scarf or jewelry.
And it has a pocket! I love pockets, especially in a dress. This little zip pocket on the right side of the dress sits smoothly against your body and is hardly noticeable, but just the ticket to hold…well your tickets to the show for one, maybe a house or room key, or a credit card.
Temperatures dipped into the 20s during our trip and the dress looked great with my down vest. I can just as easily imagine wearing it with funky tights for an art walk evening, or barelegged and casual with a pair of silver strappy sandals. Check out the way the hem drops in the back–makes the dress a bit edgier, don't you think?
Royal Robbin Ponte Dress, a stylish LBD to take with you wherever you go. Perfect for traveling. Perfect for hugging.
Perfect for mowing the leaves.
NOTE ON FIT: The lovely spokesmodel in this post–me–typically wears a size 8. I ordered the Ponte Dress in size medium because the sizing guide on the Royal Robbins website says medium will fit women size 8-10. While the dress fit me to a 't,' I thought it ran a bit small, so be sure to check your measurements and the sizing chart before placing your order. If you are on the upper end of the size, I'd recommend ordering up a size.

I received this item for review purposes, but all opinions expressed are my own.
Take the road less traveled, Beth