There are camera bags and then there is this camera bag, my Porteen Gear camera bag. You know how it is when you're a kid and you get a new superhero costume? You want to wear it all the time. Everywhere. That's how I feel about this bag.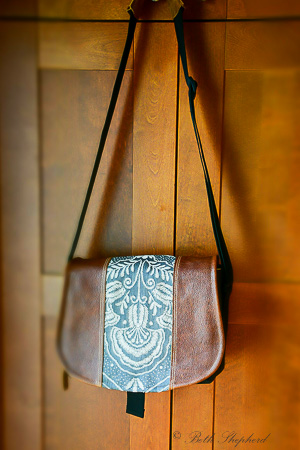 It's as if this camera bag was built–Just. For. Me. And, it was. The beauty of Porteen Gear camera bags, aside from impeccable craftsmanship, is that you design a bag that meets your specs and your style. You build your own bag.
Options are plentiful. You choose the bag size first (small, compact, medium, Darby medium, or large) and then move on to selecting the leather, accent fabric, wax, interior, and strap.
Creative (indecisive?) gal that I am, I spent a few enjoyable hours trying to make up my mind because there were so many breathtakingly beautiful combinations. My chef-d'oeuvre: medium-size bag, distressed mahogany leather, gray brocade accent fabric, black waxed canvas, black strap and cognac interior. The perfect compliment for my style: a-little-bit-classic, a-little-bit-boho.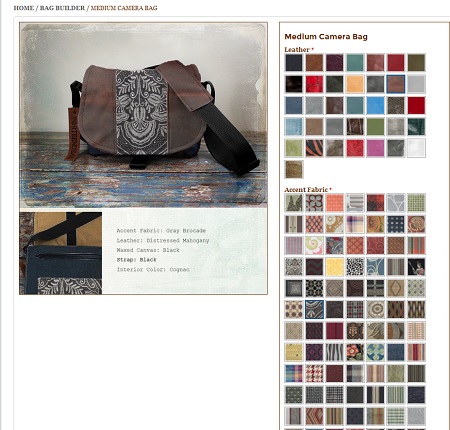 If you have any questions, and I did, Robyn Porteen–the brains, beauty and brawn behind Porteen Gear–is ready and willing to offer assistance. She is also super responsive. I asked about the different bag sizes and told her what gear I carry when traveling or on photo shoots. Then I completed my design and pulled the plug (read: sent in my order).
A couple weeks later, my bag arrived in a nondescript box. But look what lay inside! I felt all warm and fuzzy when I discovered the innovative packaging. And this was just the beginning.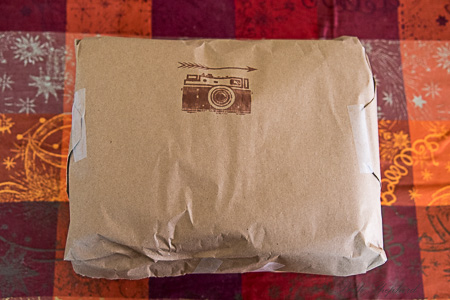 Eye-pleasing and informative details about the care and feeding of my Porteen camera bag were tucked into a clear envelope, along with a post card photo of Marian Porteen (circa 1905), one of Robyn's forbears.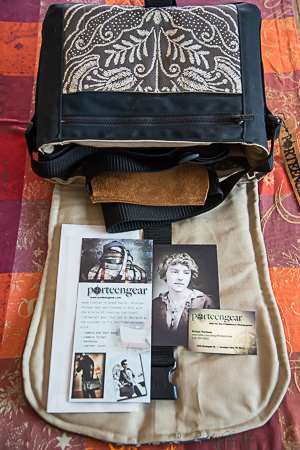 And check this out–unzip the nifty pocket on the front of the bag and you'll find a small zippered pouch, lined with groovy fabric. Robyn always includes a pouch with the purchase of any bag. Note to self: Great place to store credit cards, cash, keys and sundry items I might take on my photographic journeys, even my passport should I get lucky enough to head overseas. The zippered pocket is also the perfect spot for stashing my camera lens, which I'm always trying to stuff in my back pocket…but I don't always have a back pocket.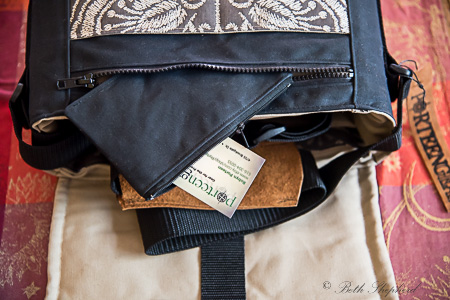 Next up, exploring the interior of the bag. Wally, my trusty assistant and muse, was up for the task.
He thought the bag was just about right for two kittens or one medium-sized cat. Upon further inspection you'll find:
Exterior front: aforementioned zip pocket and three open, smaller pockets–two that could be used to hold your phone or keys and one that is decidedly for a pen, which is really awesome because I can't tell you how often I sift through the minutia in my purse looking for something to write with.
Exterior back: one open pocket for a notebook (the old-fashioned kind), e-reader, magazine.
Interior: generously padded on all sides with two circular (and non-detachable) pockets, a center area, and a rear velcro pocket.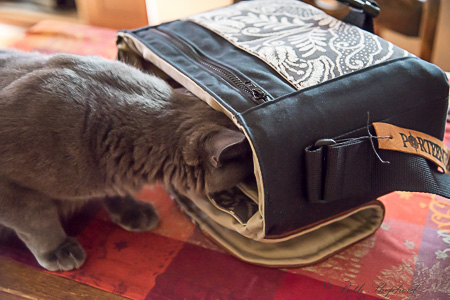 The rear inside velcro pocket is about 10-1/2 inches wide, which fit my Kindle handily. Most tablets would settle in quite nicely. I'd wondered whether the medium-sized bag would be big enough to meet most of my needs and it is. Here's what my bag looks like with three lenses (and the Kindle). I could pack it like this if I wanted to carry my camera around my neck and not in the bag. I can envision several useful combinations: camera, extra lens and flash; camera, small stainless steel water bottle, loupe and gorilla tripod…you get the idea.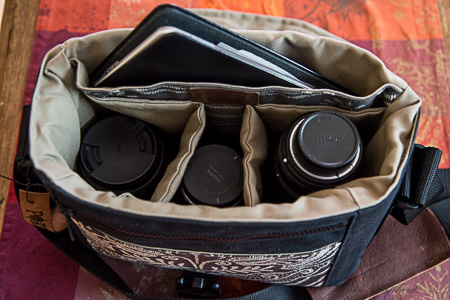 This past weekend I used my bag for a photo shoot and it was a joy to carry. Light and comfortable, nothing like one or two of the [insert famous camera bag maker name here] leather bags I've bought but never take with me on the road because they are just way too heavy and bulky.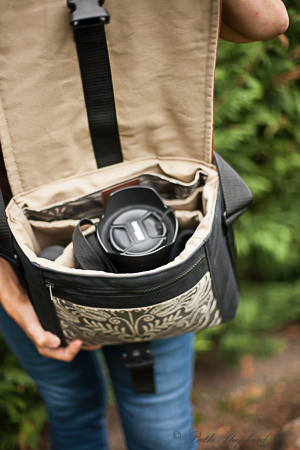 Aside from being–well, look at me rockin' my Porteen Gear bag–one thing that sets these bags apart is they don't scream camera bag, which comes in very handy if you happen to be traveling in a locale where a camera bag that screams nice camera is an invitation to theft or worse. And yes, there are other camera bags that look like purses but they tend to appear more Upper East Side and some of us–like me–are more East Village/Brooklyn, if you know what I mean.
Want to BYOB? Check out the amazing options on the Porteen Gear website, and you can find Porteen Gear's Etsy store here, with ready-made bags are available for purchase. And not just bags. You can select from wide array of camera straps, wrist straps, small leather travel bags, camera bags for DSLR, point-and-shoot, mirrorless cameras. And–hey boys–Porteen didn't forget about you! There are men's and unisex style bags too.
I received this camera bag  for review purposes but all the opinions expressed herein are my own.
Take the road less traveled, Beth
And if you want to read more about all things Pampers, follow me on Facebook, Twitter or RSS/email.