The weather forecast this past Friday was dismal. Thank goodness for a break from the rain, because I was able to tour a "secret" garden: Dunn Gardens.
We never would have found these lovely gardens without the help of a man the neighborhood who gave my friend and I the crucial tip: Look for the white gate. Sure enough, there it was, a simple white gate which led down a nondescript driveway in a rather generic cul-de-sac on the northern edge of Seattle. We drove past it twice without a clue and might have continued to do so.
Happily this was not the case and we soon found ourselves in the knowledgeable company of our docent, John. Small world too–my garden tour companion, Carrie, knew John from their days as students of horticulture. Carrie also recognized another woman on our tour who did her wedding makeup many years ago.
Before heading outside, John told us about the history of Dunn Gardens. Our history lesson took place in the former home of Edward Bernard Dunn, the second child of Arthur and Jeanette Williams Dunn, who originally purchased the land where Dunn Gardens is located. Edward converted the garage–where his father used to keep the family's Packard–into his home in 1947.
Arthur made a fortune as a founding partner in a successful salmon-processing company, and decided to purchase 10 undeveloped rural acres in 1914, in what is currently the Broadview neighborhood of Seattle. He intended to use the land as the family's summer country home, so in 1915 he commissioned the Olmsted Brothers, renowned landscape designers to locate a cottage on the property and develop a landscape plan.
Olmsted is famous for designing Central Park in New York City, but not as many people are aware of how many Olmsted parks and private homes are located in Seattle. Dunn Gardens is one of the few Olmsted-designed private properties that can be toured by the public. Dunn made sure that his beautiful woodland garden would be preserved by creating a trust to maintain the property. In 1945, when he died, the property was divided among family members. Some of Dunn's descendants still live on the property to this day.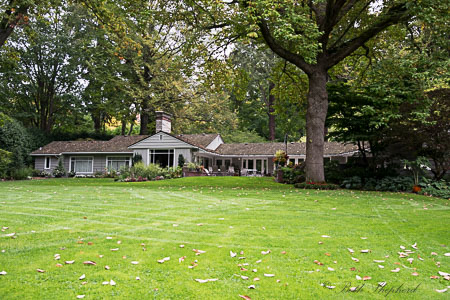 Olmsted preferred to work with the natural topography, so their plan for Dunn's property incorporated the panoramic view, ravine and existing fir trees and other plants Deciduous trees were added for texture and color, and Arthur Dunn–a skilled and knowledgeable gardener–implemented the design himself. If he made any changes, he aspired to maintain the philosophy and character Olmsted intended, which is that a garden should look as though it was created by nature, even if everything was planned.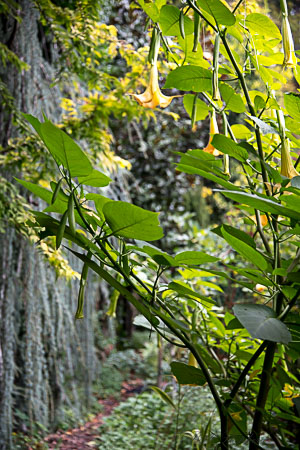 Dunn was proud of his garden and rightly so. There are paths and broad lawns, garden "rooms" that take you through what feels like a series of parks, from an open lawn ringed with trees and a blue chandelier.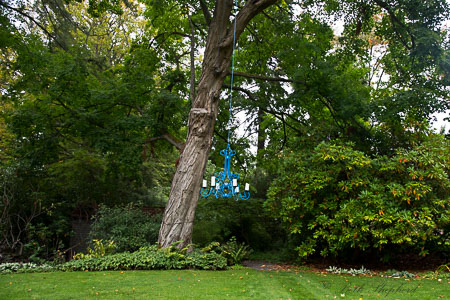 To a Japanese garden designed by Fujitaro Kubota of Kubota Gardens fame.
I was in awe that such a stunning woodland park was hiding so quietly behind an unassuming gate in a suburban Seattle neighborhood. I've wanted to visit Dunn Gardens for years and, now that I've found it, I will come back to see its beauty throughout the seasons.
2015 is Dunn Garden's Centennial anniversary. As a gardener myself, I try to imagine what this landscape looked like 100 years ago when it was first planted.
Gradually and silently the charm comes over us;
we know not exactly where or how.
~Frederick Law Olmsted
To visit Dunn Gardens, you must reserve a spot on a docent-led tour ($10/$5 for seniors). Tours last about 1.5 hours and run April 1 through July and September 1 through October on the following days: Thursdays at 1:00 p.m., Fridays at 10:00 a.m. and 1:00 p.m., and Saturdays: 10:00 a.m. You can register online (http://www.dunngardens.org/visiting-tours) or by phone (206-362-0933).
And if you want to read more about all things Pampers, follow me on Facebook, Twitter or RSS/email.
Take the road less traveled, Beth