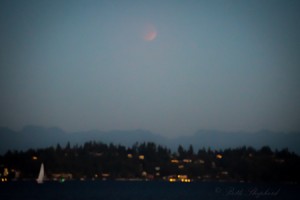 On Sunday Big Papa, Little Bird and I went down to Lake Washington to see the Supermoon eclipse. I told my 4-year-old daughter that when the next Supermoon eclipse came around, she will have graduated from college.
We spent a lot of time waiting, my camera and tripod at the ready. Standing on either side of me were professional photographers, with mighty impressive lenses. All of us stared hopefully eastward, towards the Cascade Mountains, an awe-worthy backdrop befitting such a rare celestial event.
When the Blood Moon finally appeared, it was–at least from our vantage point–rather hazy and not nearly as bright and spectacular as we'd imagined. But when we headed home and I went out into our backyard and, as the moon came out of its eclipse, I got some decent shots–handheld, no tripod, just me, the camera and our little slice of urban oasis.
Here's my first attempt at a sequential lunar collage. I'd like to improve my technique and since we won't be seeing another supermoon like this one until 2033, I have 18 years to do so.

And if you want to read more about all things Pampers, follow me on Facebook, Twitter or RSS/email.
Take the road less traveled, Beth