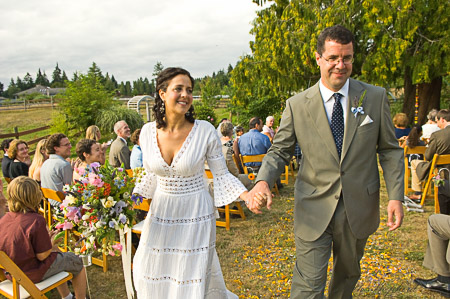 Losing one's wedding site puts a bride and groom-to-be in a precarious position. Not only are you faced with finding a new location for your nuptials, you need to secure a spot that is available on the same date as the first place you reserved.
This is the scenario Big Papa and I were up against six months before our wedding when the B&B, where we were going to hold our ceremony, informed us they had to back out. The City of Bainbridge Island, where the B&B was located, had decided to uphold an old (and previously unenforced) ordinance preventing B&B's from hosting events on their property, at least without paying a hefty fee in the order of several thousand dollars.
We found ourselves scouting for a new locale, one that–hopefully–had July 28th open because that was the date for which we'd shored up our caterer, photographer, florist, wedding night B&B and officiant.
Several weekends were spent visiting prospective wedding sites, trying to find somewhere that had the date and felt like a good fit–ideally–a place where we could house our elderly relatives so they wouldn't have to shlep to the ceremony and then back again, crisscrossing Puget Sound on Seafair weekend.
Our situation was looking star-crossed until one day, I called a B&B where some good friends were staying to make plans to rendezvous with them during their visit.
"Hi, I'm calling to speak with my friend Carolyn who's staying at your B&B. And um, I know this is completely out of the blue, but any chance you'd be open to hosting a wedding?"
"Well, I might be," the owner Marcia replied. "It's something I've been thinking about doing. You would be the first."
A week later, we made a trip across Sound, to Poulsbo. The place, Morgan Hill Retreat, looked lovely: northwest-styled home on a generous piece of land with a view of the Olympics and a large old cedar tree and a cute little pond beside the house. We told her the specifics: small wedding, July 28, rooms for our parents to stay, and a contract was written up.
Time passed. More plans were laid. The wedding neared, one month and counting down. That's when we received an email from the B&B where we were going to spend our wedding night.
"We regret to inform you that we have decided to close our bed and breakfast and pursue a different path. Unfortunately, we have to cancel your reservation."
Seriously?! We immediately contacted every bed and breakfast within 20 miles. Booked. No room at the inn, any inn. Joking, we told Marcia we might end up spending our wedding night in the barn with the llamas. Star-crossed again.
With a couple weeks left to spare, Marcia called us and said she'd found a couple who were thinking of starting a B&B. They had a room over their garage where we could stay.
Two days before the wedding, we held a rehearsal in our backyard with our officiant and members of our wedding party. Then, on the night before our wedding, along with our families, we enjoyed a delicious salmon dinner at Morgan Hill and put the final touches on arrangements for "the day."
I kissed Big Papa goodbye, with the agreement we wouldn't speak to or see each other until our ceremony. Big Papa spent the night in Poulsbo with his best man and I rode the ferry back to our home in Seattle.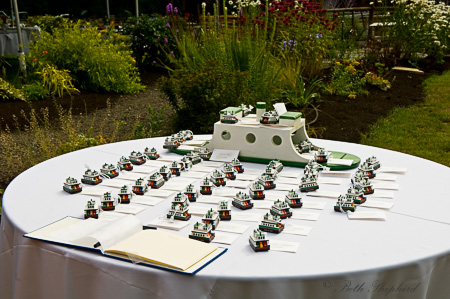 Wedding Day. Big Papa and his best man took a leisurely drive to Port Townsend. I treated myself to a relaxing massage and then boarded a ferry to Bainbridge with a friend, where we would do a bit of wine tasting before I had my hair done, and headed to Morgan Hill for our wedding.
At 2:47, a time neither of us will ever forget, Big Papa got a phone call from our officiant.
"Please take this with a grain of salt. I was a car accident and I'm on medication so I won't be able to make it to the wedding."
"Pull the car over!" Big Papa yelled.

I am thankful I wasn't in his shoes. Instead I was at Eleven Winery, several sips into a wine tasting. My friend's phone rang.
She listened and look worried. Very worried.
"Do you want me to tell her?"
I got the news. No officiant. Three hours before our wedding.
Why? Why us? I wailed.
Sarah, the wife of the winery owner, offered to pour me a full glass of whatever wine I wanted.
If ever there was a star-crossed wedding, it was ours. In that moment, it was hard for my mind not to wander…and wonder. Is the universe trying to tell me something?
I am still amazed that Sarah was able to think so quickly on her feet and post "Urgent! Officiant needed" on IslandMoms, and even more blown away by the fact that someone responded and managed to get there with 30 minutes to spare. Debbi was so calm, so centered, and pulled off our wedding without a hitch. She even knew several of our guests. In fact no one, aside from the wedding party, knew she Plan B until I gave my thank you speech at dinner.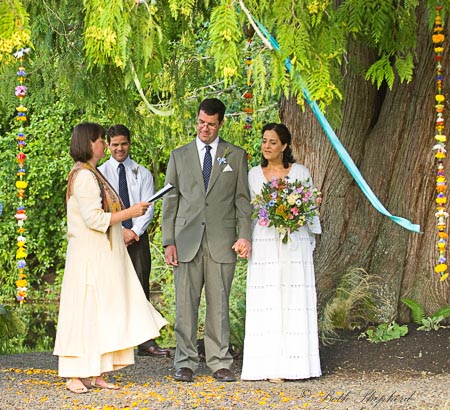 We said our vows beneath the ancient cedar, and then spent our first minutes as husband and wife toasting our good fortune in a rowboat on the pond, a rowboat with one oar. How fitting, because all along it felt like we were up that creek without a paddle. Yet in the end, the stars aligned.
Eight years later I believe it was meant to be. All of it. I can't imagine a more beautiful place to be married, or a finer person to marry us. Even the room above the garage, where we spent our wedding night, was just the right spot. On our nightstand the B&B owners left us a bottle of wine, a card, flowers, and a vintage porcelain trinket box topped with a bride and groom. Whenever I'm not wearing my rings, I place them inside the box, look at the bride and groom, and remember all the people who came together to help us become exactly that.
Happy Anniversary Big Papa!
And if you want to read more about all things Pampers, follow me on Facebook, Twitter or RSS/email.
Take the road less traveled, Beth