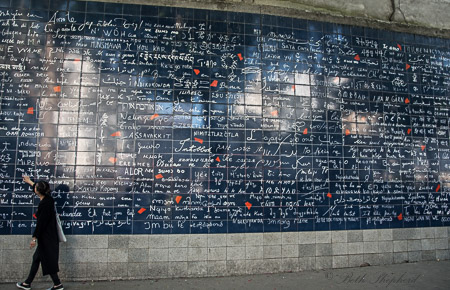 The "I love you" wall stands at the center of a garden just behind the Abesses Metro Station in Montmartre, Paris. 612 tiles of enameled lava cover a surface area of 40 square meters. The phrase "I love you" is written more than a thousand times in over 300 different languages.
The wall was created by two artists, Frederic Baron and Claire Kito, as a location for lovers to rendezvous as well as a lasting monument to eternal adoration. The phrases were collected by Frederic Baron in notebooks by knocking on the doors of embassies and asking their neighbors until he had collected more than 300 languages all expressing the powerful sentiment of love. Frederic Baron then asked Claire Kito, an artist who practices oriental calligraphy, to assemble the script. Baron states, "The bursts of color on the fresco represent the pieces of a broken heart, the heart of a humanity so often torn apart and which the wall tries to gather together."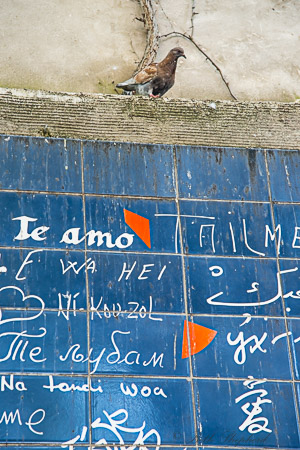 The garden itself–in Square Jehan Rictus–is worth stopping by for a stroll, lovely and serene, the perfect place to step away if you are in Montmarte and have battled the crowds at Sacre Coeur. Square Jehan Rictus originally opened in 1936 on the site of the old town hall where the Commune of Montmartre stood from 1837 to 1882. In 1994, the square was reconstructed and planted with a large variety of shrubs and trees, laid out around a central fountain.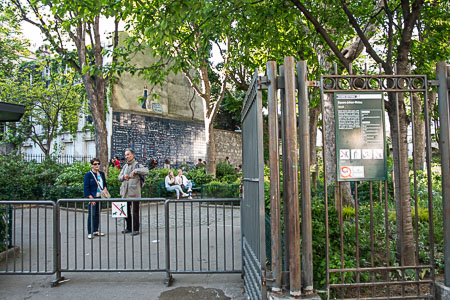 The square was named after Gabriel Randon de Saint-Amand (1867-1933), alias Jehan Rictus, a Montmartre artist who gained fame with his poems and songs written in the popular French of the time. He was a friend of painter Paul Gaugin and many other famous artists. A little oasis of greenery near the busy rue des Abbesses, it's a wonderful spot to stop and sit and enjoy the quieter side of Paris.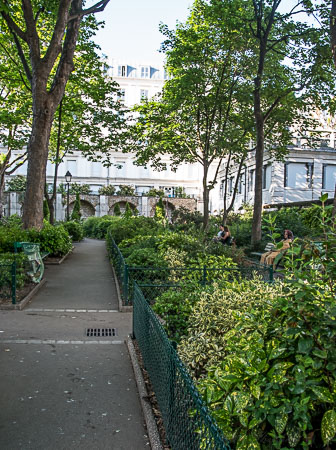 Directions:  Paris, Montmartre, 18th District – Square Jehan Rictus
Metro station: Abbesses on Line 12
And if you want to read more about all things Pampers, follow me on Facebook, Twitter or RSS/email.
Take the road less traveled, Beth