They had me at "massage in the waters of the Galapagos Islands, surrounded by sea lions." I confess: Visiting the Galapagos has always been at the top of my bucket list where travel is concerned, and now that I've had a personal tour aboard the National Geographic Sea Bird, I am even more certain this trip would be the experience of a lifetime.
Although the Sea Bird is not one of the ships with Galapagos on its itinerary, Lindblad Expeditions has ten ships in their fleet with wide-range of destinations in North America, South America, South-east Asia, Polar regions, Europe, and Africa. The Sea Bird, a 62-guest ship travels the waters from Alaska to Baja, and up and down the Columbia and Snake Rivers, most likely too chilly for in-water massage, but ripe for many other exciting adventures.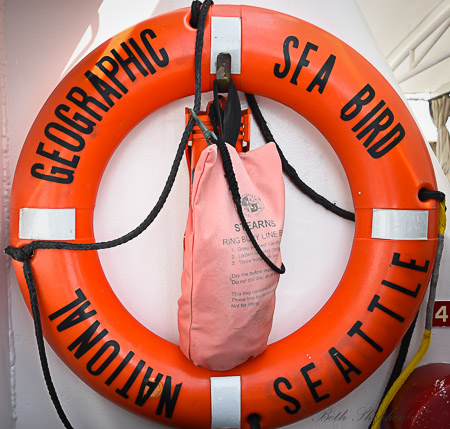 And, the Sea Bird plies the waters in updated style, one of the reasons I was invited on the tour, to view the myriad of changes that have been made on board. Rooms were redesigned–literally down to the woodwork–which, after all was said and done, took three tons of weight off the ship!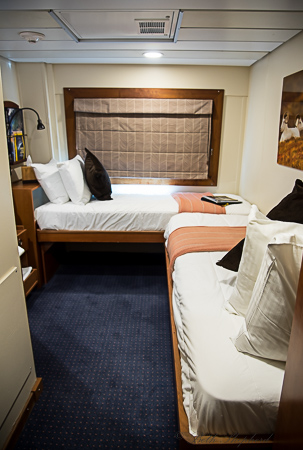 Sea Bird has new ceilings, new linens, LED lighting, USB ports, Wi-Fi, new bed boxes. All the wood used is fireproof and lightweight, made from a honeycomb wood product. The rooms are airier, sleeker and more inviting.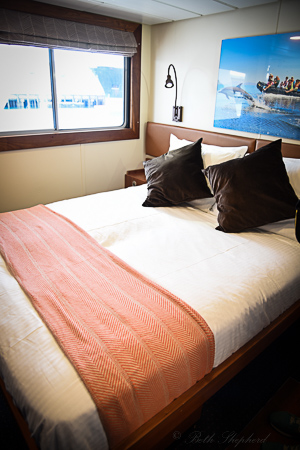 As someone who lives in a very small house, I am forever trying to find clever ways to create storage and functional living spaces despite a lack of square footage. The Sea Bird does this in spades with beautiful artwork in every room, efficiency bar none, every nook and cranny used wisely.
I've never been on a cruise and confess I never had any interest, until I saw small ship like those National Geographic has in it's fleet. I really like the personalized, intimate approach–definitely not "one size fits all"– provided by Lindblad Expeditions, as well as the focus on education for passengers and stewardship for the regions their ships traverse. They told us about the thousands of dollars that they have spend removing non-endemic species in the Galapagos and many other ways they do much more than simple transport people to a location–as a company, they commit to conservation in the local communities where they travel.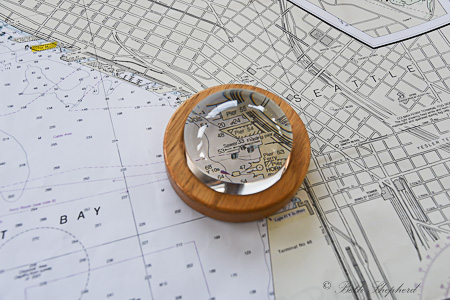 On every voyage you'll find six naturalists per one guest, a wellness specialist who offers everything from on-board yoga and fitness classes to that massage I mentioned earlier (which you can have in the ship's own tiny spa, as well as in the midst of the Galapagos), and a host of experts on local flora and fauna and–hello–National Geographic photographers, who are board to help capture the splendor of the natural world.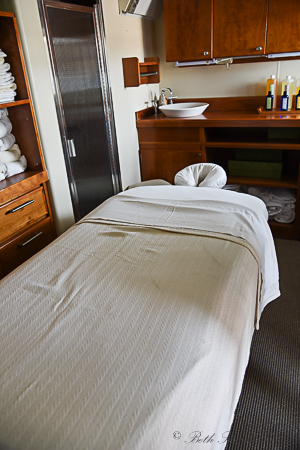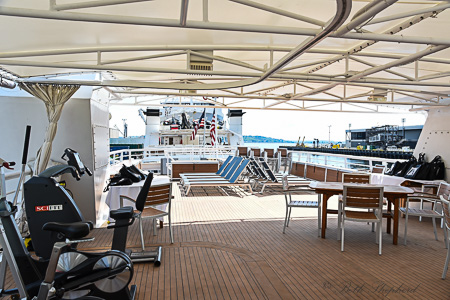 It also doesn't hurt that the food is divinely delicious as well as being locally sourced, seasonable and sustainable–and healthy. I always figured cruise food was overly sauced, overly rich, overly everything, but the meal I had was generous with fresh vegetables and salmon right from Washington State's Columbia River.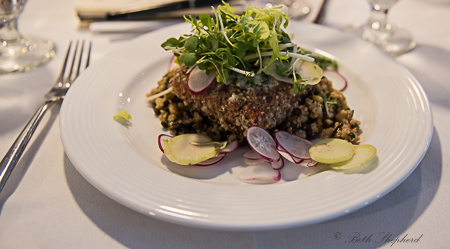 As a mom, I was heartened to hear of all the really awesome ways the ship staff engage kids. Each kid receives an "expedition kit" with a book, maps, and details. Every day kids are asked questions about what they've learned and if they answer all the questions, at the end of the trip they receive a Jr. Naturalist hat. How cool is that?
Like our guide said, going on an expedition with Lindblad and National Geographic is "the difference between watching the Discovery Channel on television versus being one of the film crew on location."
After touring the Sea Bird, all I can say is sign me up. Bon Voyage!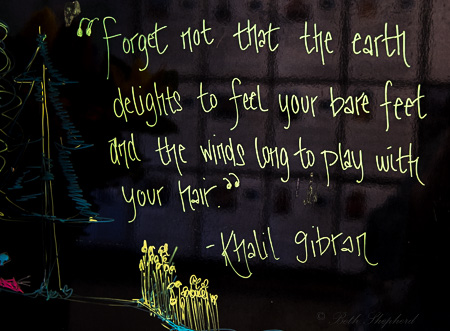 This experience was complimentary and provided by Lindblad Expeditions and National Geographic, but all opinions expressed are my own.
And if you want to read more about all things Pampers, follow me on Facebook, Twitter or RSS/email.
Take the road less traveled, Beth