Earth Day 2015
Mother Earth faces a many challenges like climate change and species extinction. This is why, 45 years ago, Earth Day was created, to help activate the environmental movement worldwide, through a combination of education, public policy, and consumer campaigns.
There are so many ways to get involved and participate in random acts of greenness! When I looked through the list of 'campaigns' mentioned on the Earth Day Network website, I realized our family does a number of the actions listed. You don't have to wait for Earth Day–you can commit to protecting our beautiful Mother Earth all 365 days of the year! Here are a five ways you can go green every day:
Reduce Energy Consumption
Start Composting
Stop Using Disposable Plastic
Buy local produce
End Junk Mail
This year, I decided to participate in one of the campaigns on Earth Day's website: Create Art to Raise Awareness. Art Works For Change, along with Earth Day Network and Global Footprint Network, invite artists to submit a digital image of original artwork (all visual mediums are welcome) for an opportunity to be featured in their online exhibition, which will open on Earth Overshoot Day 2015  in August.
I submitted three photos and logged my 'Act of Green,' because–for me–there's rarely a day that passes without me noticing something about the beauty of our world. It might be the colorful feathers on a bird, the uniquely shaped petals of a flower, or the majestic skyline views in the spectacular city where I live. When I've traveled, I always marvel at the mind-blowing beauty of our natural world: mountains, oceans, creatures in the water, in the air and on the land. Many of the shots that captured my eye recall natural beauty that I was lucky enough to encounter.
Yet sometimes, I am also saddened by the reality that–unless we do something NOW to protect our planet–some of the sights I've seen will disappear or be forever changed for future generations.
Mt. Everest, the tallest and most iconic mountain on earth, covered with immense glaciers. Unfortunately, like most mountains, Everest is melting. Glaciers in the Mt. Everest region have shrunk by 13 percent in the last 50 years and the snowline has shifted upward by 590 feet (180 meters),
And, this beautiful mountain is also littered with tons of trash: tents, sleeping bags, oxygen cylinders and even the corpses of climbers who never made it down remain. I was heartened to read, in a new move to fix their garbage problem, Nepalese tourism authorities said climbers must bring down 18 pounds of trash when they return.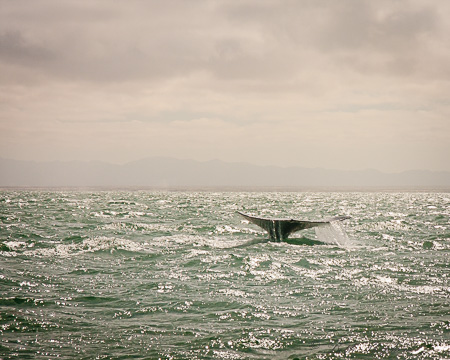 Whales. One of the most majestic creatures on the planet. Seven out of thirteen great whale species are vulnerable or endangered. Of course, whales are only one of many–too many–animals who might not be around for future generations.
As a gardener I love plants, flowers and trees. They provide food, shelter, oxygen and beauty. Animals–including us humans–need them to survive. Sadly, like the creatures on our planet, much of our plant life is also in danger of disappearing. Over 20% of plants on earth face extinction.
I know photographs aren't going to save the world. But awareness–and action–might. Earth Day! Commit a random act of greenness.
And if you want to read more about all things Pampers, follow me on Facebook, Twitter or RSS/email.
Take the road less traveled, Beth