As many of my reader's know, I live in a very small, very old house, which is why I have a soft spot for one tiny 600-square-foot Ballard home. If any house could tell a story, it's Edith Macefield's house. In 2006, Edith made headlines around the world when she refused to sell her childhood home to developers, even as it was literally enveloped by commercial buildings on three sides. Rumor has it that she even refused a $1,000,000 offer on her humble abode and, as a result, one 84-year-old-woman and one 106-year-old bungalow became cult heroes.
As the construction swirled around her, Edith opera blared from inside Edith's home and she regaled visitors with stories of edgier days in her life as European undercover agent during World War II. Edith had a lot of spunk and I admire that!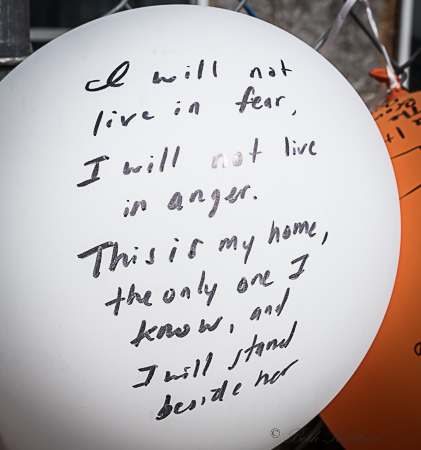 When Edith died two years later, a friend inherited her house, and then sold it to a real estate coaching firm called Reach Returns. Reach Returns announced a scheme to raise the house thirty feet in the air, inspired by the movie 'Up,' where a retired balloon salesman, and recent widower attaches balloons to his house to avoid moving to a retirement home and, instead tries to fly his home to Paradise Falls, South America. But in this real life story, Reach Returns investment scheme collapsed, investors lost a lot of money and the lender took Edith's house back via foreclosure.
Enter Paul Thomas from Realty Brokers, Inc. in Seattle. He's the listing agent for Macefield's former home. Yes, that's right, the tiny house is For Sale! My brain has been churning with ideas, even though my bank account couldn't afford to by Edith's former home, like turn the house into Edith's Diner with a portion of meal proceeds to benefit low income senior housing.
But this sale isn't typical. Thomas said there is no asking price. Buyers need to make an offer and the highest price offer may not be the winner. Thomas said the buyer needs to guarantee that the home or something will remain to honor Macefield's memory.
In the meantime a 'Memorial Balloon Wall' has arisen out in front of Macefield's house and when I went with Little Bird to get her hair cut (Sharkey's is literally around the corner), I wanted to stop by and show her the house. I tried to explain how Edith loved this tiny old house, just like mama loves our tiny old house, but all Little Bird wanted to do was blow up a balloon.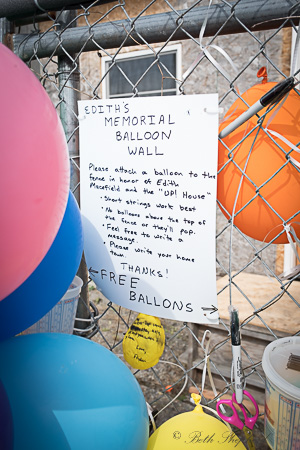 So we did. She picked a balloon and we used the marker provided to draw a picture. Then we attached our balloon to Edith's Memorial Balloon Wall.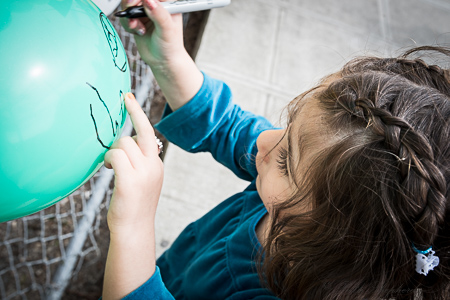 And took a picture.
Interested in buying a slice of Seattle history? You have until April 20 to come up with an idea and make an offer.  Personally–I'd like to see that happen.
If you want to read more about all things Pampers, follow me on Facebook, Twitter or RSS/email.
Take the road less traveled, Beth