Word on the street is that Kim Kardashian, her sister Kloe and two cousins are visiting their motherland. Bari Galust, Kim. Welcome to Armenia!
1. Since you have your daughter North along for the trip, you'll definitely want to read my post about sightseeing in Yerevan with an infant.
2. I'm not sure how long your family plans to stay in Armenia, but if you are there on April 24th you can participate in the 100th Anniversary of the Armenian Genocide. Here's a great article from the New York Times that describes what happened in 1915. Definitely go see Tsitsernakaberd and visit the Armenian Genocide Museum. I wrote about my visit in this post.
3. Of course, you must try Lahmajun. I wrote about Mer Taghe, my favorite spot in Yerevan to enjoy Armenian pizza. And if you want some privacy from the paparazzi, they even have take-out.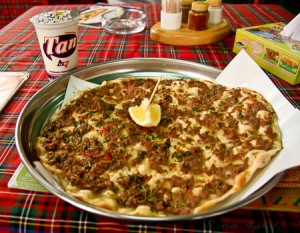 4. And, to work off the many calories consumed on your trip (oh-how-I-know), a few treks up and down the Cascades will help keep you fit and in fine curvy form. I wrote about all 572 steps in this post.
5. Finally, because I know you LOVE to shop, especially for your daughter, check out my post this week about the Sharan Crafts Center. Just leave a few things for the rest of us.
Have a great trip, Kim!
If you want to read more about Armenia, follow–Pampers and Pakhlava. You can find me on Facebook, Twitter or RSS/email.
Take the road less traveled, Beth