There is a dress shop in Yerevan that those of us in the know refer to as "The" Dress Shop. Sharan Crafts Center employs talented local artisans who produce beautiful items for family and home including sweaters, pillows holiday ornaments, Christmas stockings, toys, hair accessories. And dresses.
I've heard the store is mostly frequented by tourists and while that may be true, whenever I see a child dressed in something from Sharan, all I can think about is Armenia. I know every single one of my fellow adoptive moms with kids from Armenia, swoon at the sight of one of our children wearing Sharan. Each of our little ones has her own unique charm, but those dresses add a certain je ne sais quois.
In 2009, when I visited Sharan, we went to the original location in a residential neighborhood. A sweater, a few dresses, a few hairbands, a knit cat, and a wonderful Christmas stocking all made their way into our luggage.  A year or so later, they opened up a beautiful shop in the center of Yereven on Sayat-Nova 6. I've made sure to stop by–at least once–on every trip I made to Armenia.
The first dress our daughter wore featured a sheep. We are Shepherds, after all.
Clothing comes in an assortment of hues, from richly saturated like this dress she wore last year, to pale pastels. Every piece has delightful knit-work. I always find it hard to decide and I'm sure the shopkeepers wonder why I'm spending so much time perusing every last item on display.
You can find sweet floral hairbands and ponytail holders with a knit ladybug or a snowman. Little Bird still tries to squeeze her head into these hairbands she wore as a baby because she loves them so much.
There are hats too. And lest you think Sharan is just for girls, let me tell you that they are always well-stocked with sweaters, vests and all sorts of awesome duds for boys. Sharan also has pillows, stuffed animals, and a small assortment of table linens.
Whenever I've visited the store, I've found it nearly impossible to resist their delightfully decorated clothes. I always seem to leave with my purse heavier and my wallet lighter. The treasures I've brought home, especially the dresses, definitely fall far from my usual, I only buy second-hand clothing rule, but they are so darn cute.
Every time Little Bird puts on a dress from The Dress Shop, I think it must be the most adorable dress I've ever seen. Until she puts on another and I'm sure that one is the cutest, which is what I thought about this year's dress featuring…a little bird.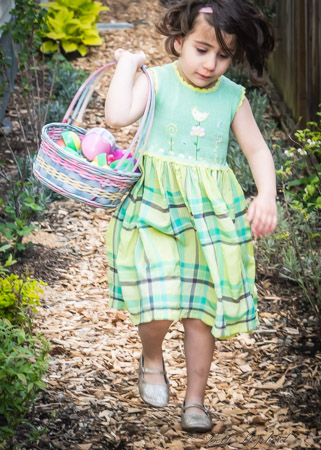 Take the road less traveled, Beth
Want to be in-the-know on all things Pampers? Follow me on Facebook, Twitter or RSS/email.