When I saw this photo of a giant mushurba statue in Gyumri, I was dismayed. Despite all the photos I took to remember the city, how did I miss this? I felt a better when I read it hadn't been installed until 2013. We visited in 2011 and 2012.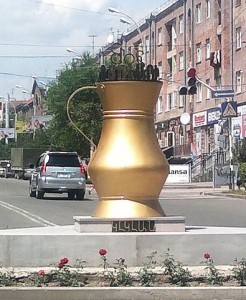 Arman Musikyan, Wikimedia.
A mushurba is a cup–distinctive to Gyumri, Armenia–with two chambers, made from copper or silver. As you sip, you'll hear the sound of gurgling water. The sound results from he intentional design of the cup.
From what I understand, the way it works is by preventing air  from coming out when water is poured into the cup. This creates bubbles which, in turn, make he sound of a burbling brook.We were told the design of the mushurba helps keep the temperature of the liquid inside stable.I've also heard that in the 21st century there was a local tradition with the host presenting a mushurba to guests.
Without a doubt, the mushurba is a symbol unique to Gyumri, which is why we really wanted to locate one to take home with us. Our translator helped us locate a gift shop on the pedestrian shopping street in downtown Gyumri where we could purchase our gurgling cup. The shopkeeper was so sweet and poured water in our cup so that we knew we were getting the real deal.
Our mushurba is one of the souvenirs from our travels, I treasure the most. I look forward to sharing the tradition of this special golden cup with our daughter as she grows up.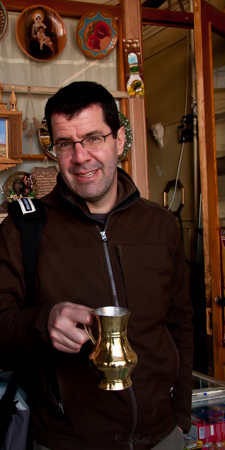 Take the road less traveled, Beth
Want to be in-the-know on all things Pampers? Follow me on Facebook, Twitter or RSS/email.