Most tourists interested in Parisian art head to the Louvre, the Pompidou Center or Musee d'Orsay, but you can find some great art right in the streets of Paris.  La Butte aux Cailles,  in the 13th arrondissement, is the perfect place to get away from the hustle and bustle of city life, and walk the quiet cobbled streets filled with art. La Butte aux Cailles is quite different from most neighborhoods in Paris. Quaint and quirky, nestled on a hilltop south of Paris, La Butte aux Cailles–or Quail Hill–was named after Pierre Caille, a former landowner in 1543.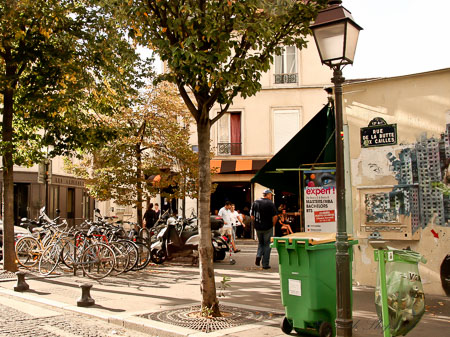 Centuries ago, the River Bièvre flowed through this tiny village filled with farms and windmills. During the 17th century numerous industries, such as tanning,  centered around the river which led to Butte aux Cailles. An unfortunate consequence of the dye factories was the River Bièvre turned into an open-air sewer. Slowly, streets were built that covered the river.
In more recent years, Butte aux Cailles attracted a great many artists including street art enthusiasts who have turned the district into an outdoor canvas. You'll stumble across whimsical murals around nearly every serpentine corner.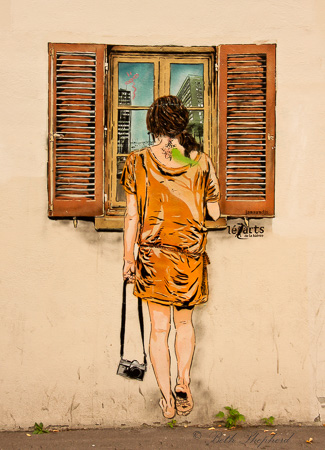 La Butte aux Cailles was one of my favorite neighborhoods in Paris. I loved wandering the streets and seeing the amazing murals. tiny one-story houses.  Plus, it really felt like we were in a village, not an enormous city.
If you happen to visit on a Tuesday, Friday or Sunday you can enjoy the outdoor market that takes place on Blvd. Auguste Blanqui. Or stop in Les Abeilles (21 rue de la Butte-aux-Cailles) and try locally made honey. I've heard the owner Jacques Schakmundès, has been spearheaded the installation of beehives in many Parisian backyards and rooftops.
Pack a picnic lunch, or stop in one of the many cafes, and treat yourself to a side of Paris few visitors get to see. To reach lovely La Butte aux Cailles, take metro lines 5, 6 or 7 to Place d'Italie or Corvisart or the bus lines 57, 62, and 67.
Take the road less traveled, Beth