A blustery day in Paris, chilly even. Ominous clouds loom. People begin to put on their jackets and open parapluie to guard against the rain. Your mood feels a bit gray.
Then you remember. You're in PARIS, nestled under cover at a sidewalk cafe in the Tuileries. Autumn leaves dress the surroundings in rich hues of red and gold. You feel as though you are in La Musique aux Tuiliereis, Manet's famous painting. You're dining on French cheese, a baguette and a fresh pear. And…you're drinking Vin Chaud. mulled wine, the perfect accompagnement for a day just like this. In fact, Vin Chaud almost makes you wish for a day like this.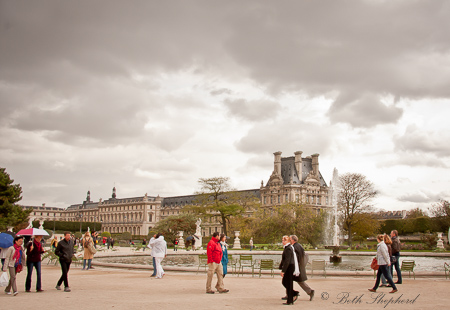 Mulled means to heat, sweeten, and flavor with spices for drinking, as ale or wine. Mulled wine is a global tradition with myriad recipe permutations. Glögg (Sweden), Glühwein (German), Vin Brulé (Italian), Negus (English), Navegado (Spanish), Forralt Bor (Hungarian), Wassail (also English)… and Vin Chaud (France). The common denominator is wine, red or white, sometimes fortified (adding a distilled spirit such as brandy), sometimes not, infused with spices and served warm.

The process of mulling wine goes back centuries. Hippocras, a drink made from wine mixed with sugar and spices, usually including cinnamon, and possibly heated, was a spiced wine popular in the Roman Empire, as seen in the writings of Pliny the Elder and Apicius. After steeping the spices in the sweetened wine for a day, the spices are strained out through a conical cloth filter bag called a manicum hippocraticum or Hippocratic sleeve (originally devised by the 5th century BC Greek physician Hippocrates to filter water). Apparently, the recipe for hippocras was brought back to Europe from the Orient, following the crusades. The drink became extremely popular and was regarded as having various medicinal or even aphrodiasiac properties.
You can use any fruity, though not overly sweet, red wine (or white if you're not a red wine drinker) to make Vin Chaud. I suggest going light on the tannins. The wine doesn't need to be expensive, just something you find drinkable. Your ideal mulling wine is an inexpensive burgundy, petite syrah, tempranillo, beaujolais, malbec or other "middle-of-the-road" red. If you're going white, try an aromatic white wine like Riesling, Muscat (moscato) or Chenin Blanc. The recipe, below, also features a finishing splash of cognac. You could substitute any eau de vie, port or brandy, but Cognac seemed appropriate since I'm writing about a drink I enjoyed in Paris.
Vin Chaud: Mulled Wine Recipe
Ingredients:
1 bottle fruity red wine
1/4 cup honey or 4 tablespoons granulated sugar
5 black peppercorns or a pinch of ground pepper
2 cardamom pods
1 star anise
1 bay leaf
5 whole cloves
1/3 cup Cognac (or another eau de vie, port or brandy of your choice) — optional
1 piece of orange zest (white pith removed), a few inches long, per glass
Note: There are myriad combinations of spices for mulled wine. Some people like to add a cinnamon stick or two, and others prefer a pinch of freshly grated nutmeg. If you want less of a zing, you could omit the peppercorn. And, while I have access to fresh bay leaves, you could use dry or forgo.
How to:
Use a nonreactive cooking pot or saucepan. Add spices and honey (or sugar) and simmer. Do not allow to boil. Turn off the stove and let the wine simmer 10-15 minutes. Reheat and, just before serving, add the cognac (or eau de vie). If you prefer your mulled wine with a tad less alcoholic punch, you can omit the cognac altogether, or add a tablespoon or two to the glass or mug and ladle the mulled wine over it. Strain wine into heat-proof serving glass or mug, removing spices (although you can leave the spices in, just don't eat them). Garnish with a strip of orange zest.
Take the road less traveled, Beth