A toast to the heron:  Photo of artwork used with permission, Jake Hose
Seven years ago, Big Papa and I got married. This fact, in and of itself, is truly something to marvel at. Because–we nearly didn't.
Our first wedding venue cancelled six months prior to the wedding. Next, a month before the wedding, the B&B where we planned to spend our wedding night also cancelled, telling us they had decided to close their business. And then, the trifecta of all trifectas–our officiate cancelled a mere three hours before we were scheduled to say "I do." It certainly felt like the world was conspiring against us.
But sometimes the universe works in mysterious ways. As luck would have it, the bad news was delivered while I sat in Eleven Winery's Bainbridge Island tasting room. The winemaker's wife, Sarah, was working that day, and she was a member of IslandMoms, an online community for Bainbridge Island moms. Quickly she posted: URGENT! Officiate needed.
Fate was on our side, and we received a response to our post. The respondent was a new member to IslandMoms and had been reading through posts as she soaked her feet following a long, tiring day of political canvassing. She had performed only one wedding before ours, for a co-worker, but she was licensed as a minister with the Universal Life Church. She could marry us!
With less than thirty minutes to spare, Debbie, our new officiate magically appeared.  Forty-eight close friends and family members were able to watch us become husband and wife. Plus one additional, uninvited, guest.
Just as we began our ceremony, a young blue heron flew in and seated himself in a log chair nearby. He sat there until we kissed and then he flew away.
What an auspicious guest. In Native American lore, the heron embodies wisdom and patience.  Supremely capable at fishing and hunting, the Iroquois felt that the sight of one before a hunt was a very good omen for success.
Whether he flew in as a representative of those dear to us who weren't able to attend our wedding, or the spirit of loved ones who were no longer with us, I will forever interpret his presence as a good omen for the success of our marriage.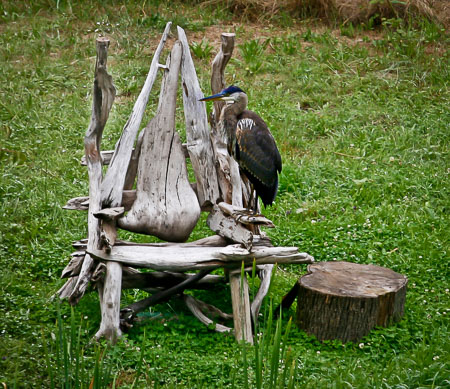 Photo by Marcia Breece
After the ceremony, we spent our first minutes together floating in a boat in the pond. We sipped champagne and toasted our good fortune–after all that we were married. Even though our rowboat was short one oar, we didn't have a care in the world.
Happy 7th Anniversary to us!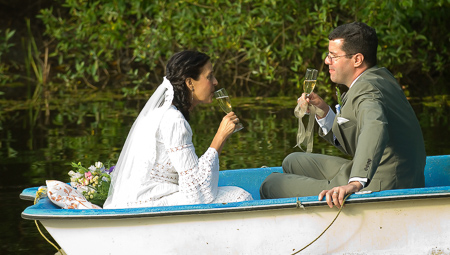 Photo by Rebecca Sullivan

Take the road less traveled, Beth
–And a heartfelt thank you to Elegant Garden Design  for the lovely heron who will grace our garden…and for the touching gift tucked in with him.