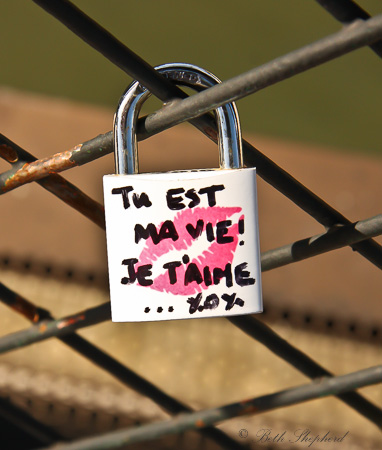 Love lock on the Pont des Arts in September, 2010
The many bridges crossing the Seine in Paris invoke a certain je ne sais quois, inspiring lovers worldwide to walk amidst their beauty, sharing romantic moments. Around 2008, the walls of several bridges–including the Pont des Arts, with its spectacular view of Île de la Cité–have virtually disappeared from view, covered by swathes of love locks, padlocks symbolizing unbreakable love.
Love locks are not unique to Paris. Bridges in Germany, Taiwan, Canada, and Italy are also festooned with thousands of locks. The tradition, relatively recent in Europe (2000's), transpires as follows: Sweethearts inscribe their initials, names, or a message of love on a love lock or love padlock. The lock is affixed to a bridge, fence or gate. And then, the sweethearts throw away the key (in this case, into the river Seine) to show their love is forever more.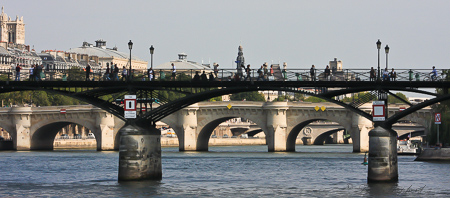 Over the years, the weight from these locks has put the integrity of these bridges at risk. When we visited Paris in 2010, this is how the Pont des Arts looked: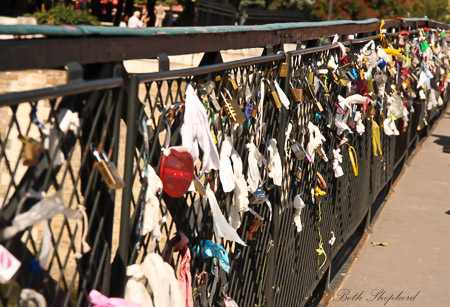 By 2013, the bridge looked like this: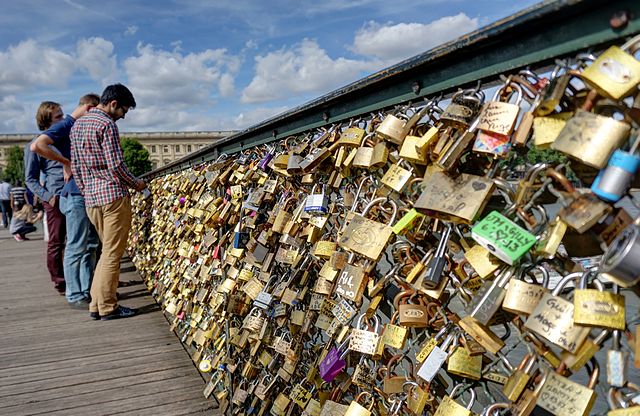 Photo of Pont des Arts by Disdero.
Then, two days ago, the weight of love became too much and the parapet of Pont des Arts fell into the Seine. The bridge had to be evacuated, and the two grills across a 2.4 meter stretch of the bridge were temporarily replaced by wooden panels.
According to Jean-Pierre Lecoc, the mayor of Paris' 6th arrondissement, where the bridge is located,  the locks on the Pont des Arts weigh as much 10 tons, or 22,000 pounds (each lock weighs 54 to 90 grams or 2-3 ounces). The grate that collapsed yesterday weighed about 200 kilos (~440 pounds) and the bridge has roughly 50 grates.
This is why two friends–both named Lisa–U.S. expats living in Paris, created a petition in 2014 (which you can find here) to save the bridges in Paris from destruction. Their website, No Love Locks™ , implores tourists to: Free your love. Save our bridges. Lisa Anselmo and Lisa Taylor Huff advocate finding a more creative–and less destructive–means to commemorate love. And I agree.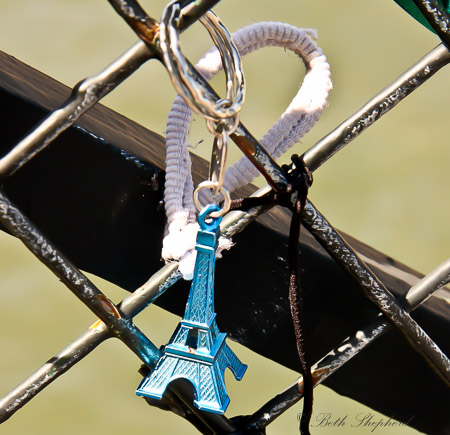 When I visited Pont des Arts in 2010, I confess I was enamored by these little tokens of love. But now I see the the light, and the havoc love locks are wreaking on Paris's lovely historical bridges (not to mention the Seine…I can only imagine what thousands of metal keys are doing to the water and the fish that swim in it).
So when you visit Paris, please treat the City of Light with more respect. Vive l'amour (Long live love) but set the bridges free!
Take the road less traveled, Beth