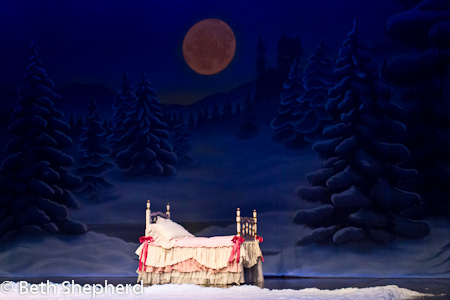 "Where the bed go?"
"I want to see bed."
"What happened to bed?"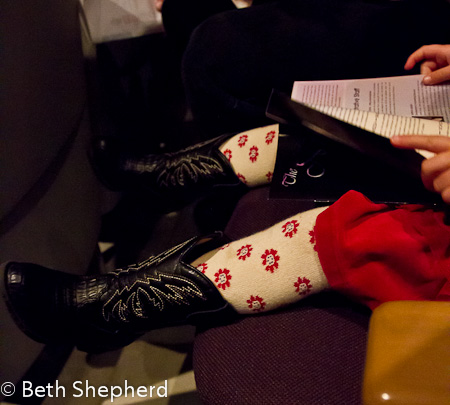 I've seen the Nutcracker countless times, and I must confess that the whereabouts of the bed never crossed my mind. But this was my little sugar plum's primary concern at the Evergreen City Ballet's performance. It was her very first Nutcracker experience, and she was enthralled with every little detail. Especially, the bed.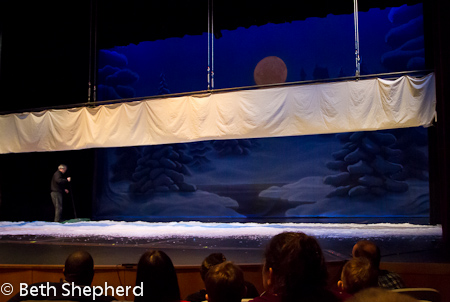 The Evergreen City Ballet's Nutcracker couldn't be more  kid-friendly.  Not only have they created a masterful abbreviated version of the original (read: one hour in length including a brief intermission), they allow the audience entré into the secret world of theater. Before the intermission we find out "How'd they do that?" for a few key stage "tricks," such as how the snow falls (a folded curtain with slits, filled with faux snow, is shaken back and forth), how the sets are changed for Act II, and how the bed magically moves across the stage (a "bed boy" maneuvers from underneath). Oh, that clever bed!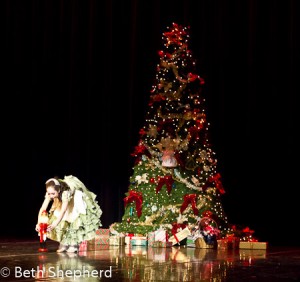 But wait. There's more! Evergreen's show was filled with many delights: portly mice running through the audience, hefting their bellies this way and that, the ethereal sugar plum fairy and her snowflake entourage, mysterious  Uncle Drosselmeyer, a gaggle of children and–of course–the handsome Nutcracker and lovely Clara.
"Those crazy boys," my little one exclaimed with a chuckle.
We are very fortunate in the Pacific Northwest to have a rich Nutcracker history, as anyone who has attended Pacific Northwest Ballet's Nutcracker will attest (sets designed by Maurice Sendak, aka Where the Wild Things Are). Whenever I've been able to go, PNB's Nutcracker is an absolute delight.
So I was wondering if Evergreen City Ballet would be able to adapt E.T.A. Hoffman's story and Tchaikovsky's musical score, and make the story believable without feeling clipped during the one-hour performance. And they did! The essence of Nutcracker was all there: the wonder, the music, the dancing, and the magic.
After the performance, some of the dancers come out into the lobby in costume.  Little ones posed with real ballerinas, but my little one shied away when Uncle Drosselmeyer came near. However she loved touching the tulle skirts and bejeweled leotards.
Although the shortened version is over, there are still shows in Auburn and Renton with tickets available! Visit their website at: http://evergreencityballet.org. Evergreen Ballet's Nutcracker is the perfect introduction for little sugar plums.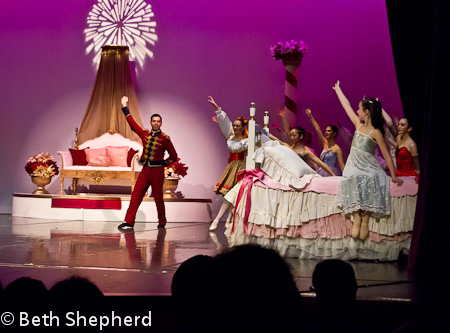 Take the road less traveled, Beth
And a heartfelt thank you to Wendy and James Kirchner ("Aunt Wendy" and "Uncle Jamie") for sharing Evergreen City Ballet with Baby Bird and with us. The evening was a huge treat for all.