"The Fish Guys are up in the fan," Baby Bird stated matter-of-factly a month or so ago, at dinner.
"What?!"
"The Fish Guys are up in the fan. Look," she said again pointing to our kitchen ceiling.
Ah, the minds of children.  Since that evening, it seems that The Fish Guys have taken up residence in our ceiling fan, because she mentions them a least once a day. Not that this is a surprise. Baby Bird loves The Fish Guys. She gets really excited when we head to our neighborhood farmers market for a visit.
Dave, Tim and Gene have become Baby Bird's best buddies. Each and every Friday afternoon during the summer, I make a pilgrimage with my daughter to the Madrona Farmers Market, where she hits The Fish Guys up for free smoked salmon samples at Wilson's Fish stand (along with free beans to munch on from Rand at One Leaf Farm).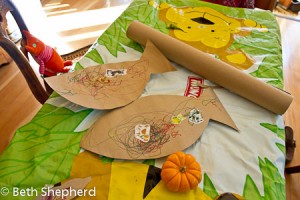 After she's chowed down as much salmon as they'll allow her to take (yes, she frequently cleans out the Tupperware container), we move on to the ice holding portion of the visit. This is where she takes out a large chunk of ice from the cooler, licks it and then watches it melt in her hand (or mine when she hands it to me to "take home to Dada"). She'll exclaim "BRR! Cold," while holding shaking her fists like she's freezing (or very excited).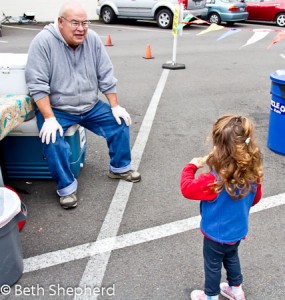 The Fish Guys laugh and play along, joking and laughing with her. I always have a smile on my face because I love knowing my daughter is forming happy memories of being at the farmers market, just like I did as a child. She gets to eat veggies and fruit straight off the farm, and get to know the growers (and fishermen) who make it possible for us to enjoy delicious fresh food.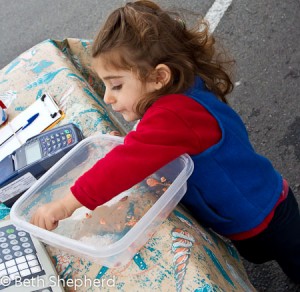 Seeing The Fish Guys is the high point in our week, which is why I was sad that our neighborhood farmers market season came to a close. How could I explain to Baby Bird that we might not see The Fish Guys for several months, at least at the Madrona Farmers Market. I told her that we could make occasional treks to the Sunday Ballard Farmers Market for a special visit, but they wouldn't be blocks away from where we live. At least until next May. Minutes, hours and days are a big concept for a two year old, much less months and seasons.
On this last visit, we brought The Fish Guys a thank you fish card, and I purchased my "usual," a pound of fresh salmon to grill, along with wine and maple smoked salmon which we sprinkle on salads and toss in omelets. We never cease to be amazed at the deliciousness of their fish. It is the freshest, tastiest, melt-in-your-mouth fish I've ever had, absolutely worth the couple extra dollars per pound I might save if I bough fish at my neighborhood grocery store. It truly is that good.
Plus, we get to spend a few minutes with the fish guys. And that is priceless. Now if we could just figure out what they're doing in our fan!
Take the road less traveled, Beth
For more fish stories and other great food, check out Wanderfood Wednesday!