A few weeks ago, Baby Bird got to be a flower girl in her cousin's wedding. After the ceremony, guests milled around, chatting and sipping a drink before dinner. My little one showed a lot of interest in my glass of bubbly and that's when I remembered: the Shirley Temple. I ordered one and sat her down to try it, explaining that when I was a little girl, this was one of my favorite "special" drinks.
The Shirley Temple consists of ginger ale or 7-up with a splash of grenadine, topped with a maraschino cherry. My sister and I occasionally got a second cherry, from our dad, soaked in brandy from his Manhattan, which we both thoroughly enjoyed.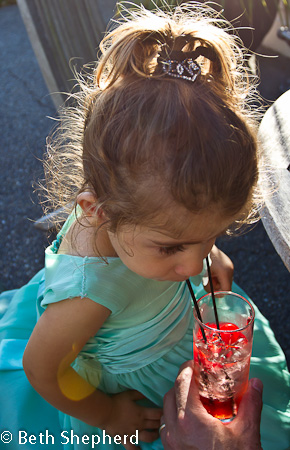 Child actress Shirley Temple began her career in 1932, at the age of three. Legend has it that on her 10th birthday, a bartender at Chasen's, a Beverly Hills restaurant, created a non-alcoholic cocktail to serve to her while she dined with her parents and older celebrities.
Of course, like most food lore, there are several claims to the origins of this drink.  Waikiki's Royal Hawaiian Hotel profess they invented the drink, since Shirley Temple was a frequent guest there. The Brown Derby in Hollywood marketed drinks with celebrity names, one of which may have been the Shirley Temple.
Shirley Temple, herself, says she actually never liked the drink, and opposes the idea that cocktails (even non-alcoholic) should be served to children. She has fought attempts to use her name in unauthorized sodas, saying "All a celebrity has is their name."
So bottom's up to Shirley! Cheers to the name, the drink…and my own little celebrity.
Take the road less traveled, Beth
Check out more food and libations on Wanderfood Wednesday!