We recently spent a weekend in lovely Lancaster, Pennsylvania, attending a reunion for families with children adopted from Armenia. Who would think we would find an Armenia feast in the middle of the Amish countryside? But find a feast we did!
Armenian Delight from Broomall, Pennsylvania cooked up delicious dolma, kebab, tabouli, kufta and, of course, pakhlava. I ate every bite off my plate, got seconds, and reminisced about all the amazing food we enjoyed in Armenia.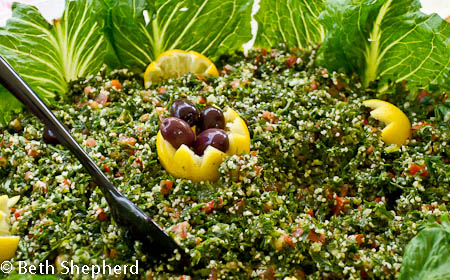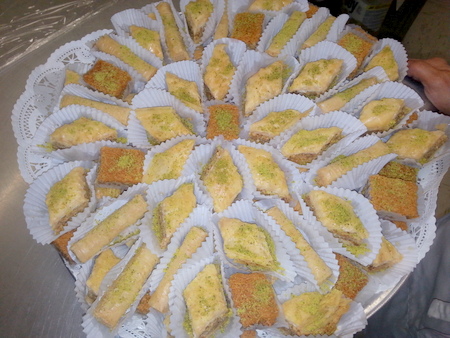 I've cooked a number of Armenian dishes, but have yet to try making kufteh at home. Not for long! Here's a recipe for Vospov (Merjimek) Kufteh with thanks to Bev, Aunt Rose and the Armenian Memorial Church in Watertown, Massachusetts.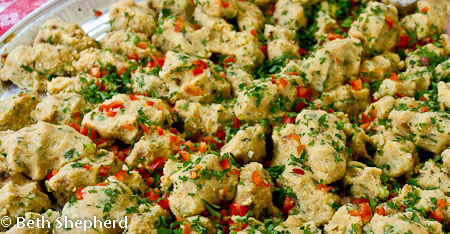 Vospov (Merjimek) Kufteh
Ingredients
1 cup split red lentils
3 cups water
1 tsp salt
1tsp red pepper
1 cup medium bulgur
1/2 cup butter or margarine, melted
1 medium onion chopped
2 scallions, chopped
1/2 sweet green pepper, chopped
2 cups parsley, chopped
How to:
Boil lentils 30 minutes in the water (will look pasty).
Add salt ad red pepper and additional water, if needed and boil 2 minutes longer.
Put bulgur in a large basin and pour lentils over it.  Mix, cover, and let cool one hour.
Brown the onion in the melted butter or margarine add add to the bulgur/lentil mixture.
When cool enough to handle, knead 5 minutes until well-blended.
Mix in the chopped vegetables and add more salt and red pepper to taste.
Shape into individual servings by squeezing a portion against the palm of your hand gently with your fingers.
Serve while still warm.