I love vegetables. When I was a little girl my father had an enormous garden behind our home in upstate New York. He grew it all: carrots, corn, asparagus, raspberries, tomatoes, lettuce, onions, cabbage, cucumbers, radishes, dill, peas, beans, squash, pumpkins, rhubarb, apples, pears. And we ate it all.
Some of my earliest memories are of accompanying him to the garden, plucking berries warmed by the sun and eating them right then and there. My sister and I would always sneak five into our mouths for every one that made it's way into the basket.
As a gardener myself, I imagined introducing Baby Bird to the magical world of edible greenery. We would nibble our way from one end of the yard to the other.
So imagine my chagrin upon observing her reluctance to eat anything green. Squash, pumpkin and most things in the orange category were fine, as long as they came in the unrecognizable form of baby mush. Anything green? Spinach, peas, kale? NA-NA-NA-NA-WAAAA [baby speak for no freakin' way].
Which is why I was supremely delighted when Rand, my favorite farmer at the Friday Madrona Farmers Market, offered Baby Bird an arugula leaf. And…she ate it.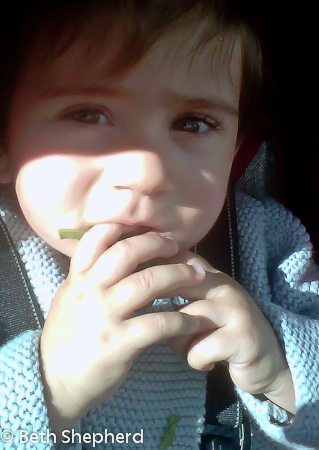 Baby Bird's first fresh greenery was arugula. Arugula from One Leaf Farm.
Thankfully, I had my phone (albeit a Blackberry with less than stellar camera capability) with me to capture proof! Here she is chomping happily on a leaf. First one and then another and another.
I will say–sadly–it's been a challenge to repeat this performance at home. But it happened once so I know it can happen again.
I have hope. One leaf is all it takes.
Want to munch on more deliciousness? Check out Wanderfood Wednesday!