We've got babies! Three of the chickadee babies nesting in our birdhouse fledged yesterday. They are absolutely adorable: fluffy and puffy with tiny yellow beaks. First we found two, and then three, amigos taking  voyages of short flight, and hopping around the yard. We are also hearing a lot of plaintive peeping because, unhappily, Mama and Papa are no where to be seen. We are concerned about these little ones since we are not sure they know how to forage for their meals yet.
For today, we've made a few excursions into the yard to check on them  and enjoy their cuteness (although Maggie-the-cat is on house arrest for the time being). Of course I couldn't resist taking a few pictures. I put on my biggest zoom to give them wide berth. Here are a few shots of our chicks.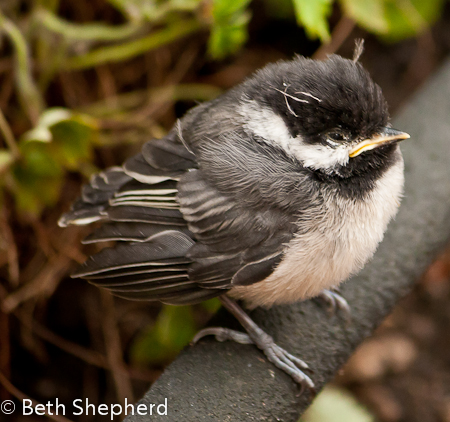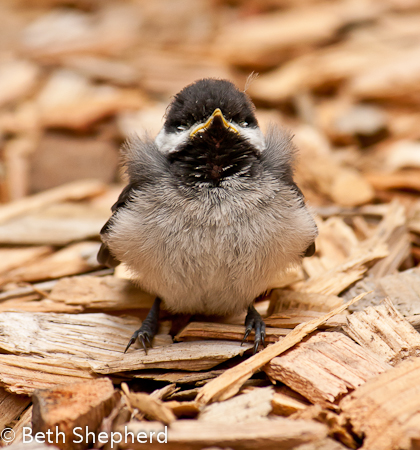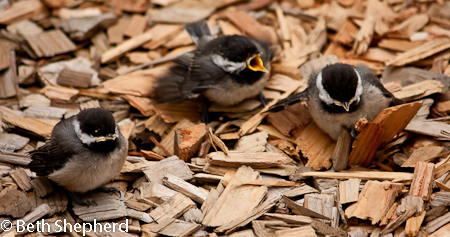 Postscript: Sadly, one of the three chicks didn't make it overnight. We read that only 20% of chickadee babies survive their first year. The weather over the past couple days isn't helping either: cold and rainy. But we are crossing our fingers and claws that at least one of them beats the odds and strikes out on his own.
Want to see more fluff and stuff? Check out Delicious Baby Photo Friday!