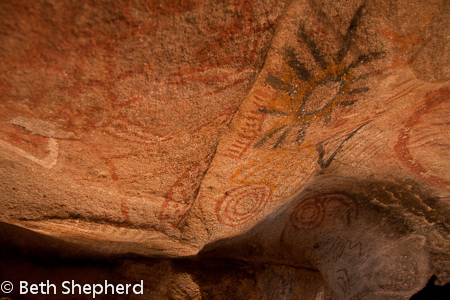 For such a small place Catavina gets a lot of attention! Located on Baja Highway One between El Rosario and the Bay of L.A. junction, travelers have loved Catavina for many reasons over the years, and not just as a place to stop for gas on a long stretch of highway.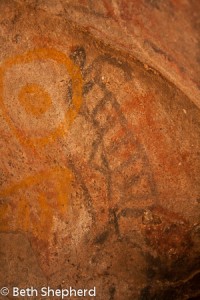 Located in the middle of the Desierto Central de Baja California, Catavina is a combination of gigantic granite boulders, unique vegetation and white sand. Hundreds of species of cacti and desert plant, many of which are endemic—like the boojum–seem almost artfully arranged between the boulders along dry river beds.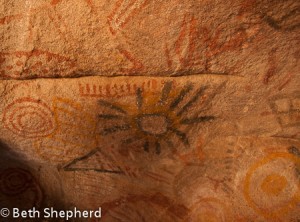 Another reason to visit Catavina is to see the cave paintings. Reported to be between 8,000 and 10,000 years old, these amazingly intact and vibrant paintings tell the story of indigenous life—both human and animal—that existed in this region.
It was awe-inspiring imagining what might have been in this very spot many, many years ago. The cave paintings are a hidden gem that we were fortunate to see. If you are interested in visiting the caves, inquire at the La Pinta Desert Inn. Our tour company, Andiamo Travels, handled our visit but I heard that guides can be arranged.