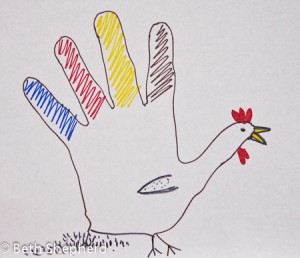 About fifteen years ago, I attended a "Kentucky-themed" Thanksgiving feast (Thank you, Alice!). If memory serves, most of the recipes featured bourbon. At least that's what I remember. That and the turkey.
This turkey was the best tasting turkey I'd ever had. Brined, smoked and glazed: it had that whole salty-sweet, moist-crisp thing goin' on.  That night I swore that if I ever had a chance to cook turkey in my own home, this was how I was going to do it.
For years I fantasized about that turkey, and talked it up every chance I got. Then I met Big Papa and when we had our first Thanksgiving at our house, I told him this way was the way. Thankfully, he was up for the challenge.
We'd gotten engaged some months earlier and invited our mothers to visit over the holiday so they could meet each other before our wedding.
When Big Papa carved our turkey and tried his first bite, the look on his face said it all. Of course he confirmed my suspicions by announcing: "That's the best darn turkey I've ever had."
And our moms? They were pretty impressed too.
So here's the recipe we used, the recipe we will use again and again. Because brined, smoked and glazed turkey is the best turkey. Ever.
Cranberry and Zinfandel Brined Turkey with Maple Glaze
Serves 12 (Note: I bought a smaller turkey, about 10 pounds, and cut the recipe in half).

Brine:
2-750 ml. bottles Zinfandel wine (doesn't have to be expensive Zin)
1 gallon apple cider
1 pound fresh cranberries
1 cup honey
1 cup kosher salt
4 sprigs fresh rosemary
1 tablespoon black peppercorns
4 sprigs fresh sage
2 sticks cinnamon
Turkey:
1-18-pound turkey, preferably free-range and hormone free
Glaze:
Maple syrup, preferably Grade B which is a bit stronger tasting
How to:
To prepare the brine, combine the wine, cider, cranberries, honey, salt, rosemary, peppercorns, sage and cinnamon in a large pan over high heat and bring to a boil. Let the brine boil for about 4 minutes. Remove the pan from the heat, let cool and refrigerate until it reaches about 40-degrees.
Place the turkey in a very large container (or a plastic brining bag). Then pour the chilled brine over to cover. Refrigerate at least 24 hours and up to 48 hours. I brined ours in a bag and turned the bag every so often so that all parts of the turkey had their turn sitting in the brine. The turkey turned a lovely shade of pink.
We grilled our turkey (Thank you, Big Papa!) with cherry wood chips which impart a wonderful fruity, smoky flavor. About an hour before the turkey is finished cooking, I "painted" maple syrup on the skin using a pastry brush.
You could just as easily brine your turkey and cook it in a 350-degree oven. Either way, before you cook the turkey, remove it from the brine and drain well; then discard the brine.
If you are roasting your turkey in the over, roast it until it reaches an internal temperature of 155°F in the breast meat, tenting (draping foil over parts of the bird that are looking done, like the wings) it with aluminum foil (which we did) if it starts to brown too much, about 4 hours. We also checked our bird's temperature whilst grilling. It's uber important that turkey meat is cooked thoroughly.
Let the turkey rest 5-10 minutes before carving; internal temperature should rise to 165°F. Carve and serve warm.
Adapted from "Caprial and John's Kitchen: Recipes for Cooking Together," by Caprial and John Pence (Ten Speed Press)
Want to be thankful for more deliciousness? Check out Wanderfood Wednesday!