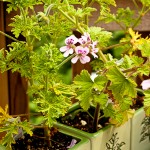 Rose geraniums have graced my back deck for the past two years. I walk past them and brush my hands across the leaves to smell their sweet rosy fragrance on my fingertips. And, I cook with them.
Last year I infused geranium petals in milk to create a divine Rose-Geranium White Chocolate Ice Cream. This year, I layered the petals in sugar to make Rose Geranium sugar. I also used the petals to make simple syrup. Put the rose sugar, the rose simple syrup together with some fresh muddled lime, 10 Cane Rum, a splash of soda water and what do you have? Delicious Rose Geranium Mojitos. Nothing says summer quite like a sip of rose!
Note: Scented geraniums aren't "true" geraniums. The scent comes from the crushed leaves and can be lime, rose, nutmeg or any number of scents. This recipe would work with any scented geranium.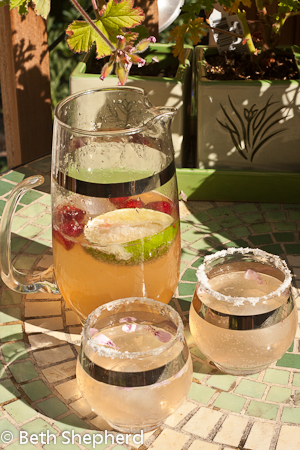 ROSE GERANIUM MOJITO
Ingredients
Rose Geranium Syrup: (makes 1 pint)
10 fresh rose geranium leaves
1 pint simple syrup (2 cups sugar dissolved in 2 cups water)
Rose Geranium Sugar: (makes 2 cups)
5 fresh rose geranium leaves
2 cups sugar
Assemble
3 sprigs fresh mint (optional)
3 fresh rose geranium leaves, plus more for garnish
3 wedges fresh lime
2 ounces 10 Cane rum
1½ ounces rose geranium syrup
Club soda
lime slices
How to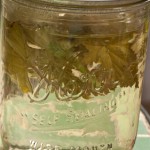 Rose Geranium Syrup:
Combine the rose geranium leaves and simple syrup in a pot. Bring to a simmer for 10 minutes, stirring constantly. Strain and let cool.
Rose Geranium Sugar:
Put the rose geranium leaves and 1 cup of the sugar in a food processor and mix on lique
fy; make sure all the leaves are pulverized. Remove and fold in with the remaining 1 cup sugar.
Serve
Muddle the mint, rose geranium leaves, and fresh lime. Add the rum and rose geranium syrup and shake hard. Pour into a large rocks glass with a rose geranium sugar rim. Top with club soda water and garnish with a slice of lime and a rose geranium leaf.
Want to sip on more deliciousness? Check out Wanderfood Wednesday.