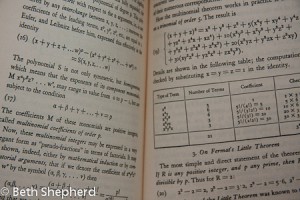 Math has never been my forte. When I was in grade school, I was fair to middling at math. Unfortunately, in tenth grade I suffered through "SMSG geometry" and a teacher—amazingly enough, a woman—who did nothing to inspire or motivate me. So by the time I was a senior in high school, I was doubling up on art classes, enrolled in college-level English and Sociology, but taking remedial math.
In graduate school my statistics skills were abysmal which, as a budding sociologist at a school known for its statistical prowess, did not bode well for my future as an academician. I left the program ABD (all but dissertation). The thought of cranking out all the statistics I'd need to support my thesis, froze me in my tracks.
Ironically, I married a math major. Or maybe not so ironic, since there are many ways Big Papa and I balance each other in our relationship.
It's funny, this math-phobia of mine, because I am deeply fascinated with "the odds." "What are the odds?" I frequently question, generally when the odds aren't in my favor, which has been a greater percentage of the time these past few years. Or so it feels.
Remember: Big Papa and I were the couple who first lost the site where we were supposed to be married. Then we lost the B&B where we were going to spend our wedding night. But the kicker was when we lost our officiate, the person slated to marry us, just three hours before the ceremony.
Then, there's the spate of "you've got to be joking" tales of woe related to our adoption. Two trips to try to register a child, plane flight to parenthood canceled at the last minute and botched paperwork. If I hear: "You're the first family to…" or "Our form doesn't cover your unusual circumstances" one more time, I'm contacting the Guinness World Book of Records.
Yet despite the sorry stats that have haunted my life over the past few years, the truth is I can recite an equal number of amazing percentage-defying outcomes too. Like the date Big Papa and I met for the first time: January 9, 2005 or 1-9-0-5. This significant date in our relationship matches our house number—1-9-0-5– the house I drove up to on 1-9-05. What are the odds?
And while we were nearly stood up at the altar by the person who was supposed to marry us, we managed to find an (even better) replacement, via an online Yahoo chat group (all hail 'IslandMoms') barely an hour before we said, "I do." What was the chance of that happening?
There are more stories…
A few days ago, I want to a 'Mamas with Cameras' meeting. At the end of the session, when everyone else gathered around to share their best shots of the month, I wandered into the kitchen to chat with the guest speaker and her neighbor, a friend whom she'd brought to the meeting.
"I'm probably the only mom in here without a kid," I told them. As I recounted the five-cent version of my adoption story, the speaker's friend turned to me with an understanding smile. It turns out she is also an adoptive mom, with an adoption horror story that rivals my own. She told me how she ending up spending seven months in the country of her son's birth before being able to bring him home. I felt like I'd found a kindred soul. What were the odds? If I hadn't gone into the kitchen, we'd never have met. I told her I'd love to chat more, but by the time we left, we hadn't exchanged any contact information.
The next day I saw an ad for an item I was interested in on 'MadronaMoms,' a listserv I receive. I exchanged a few emails with the mom who posted the ad and got her address. Guess who answered the door when I got to her house (a mere mile from my own)? The adoptive mom I'd met just the night before!
Then, there's the recent celebration of my birthday. For my last two birthdays, Big Papa and I have gone camping at Salt Creek County Park on the Olympic peninsula. Each year, two years in a row, we've also stopped into Harbinger Winery for a few bottles of their delicious wine. This year, we were chatting with the gal in the tasting room and asked her about the owner and winemaker, because we've never been able to meet her. "Oh, she's not at the winery today. She's celebrating her birthday." She's never been at the winery when we've visited, because she shares the same birthday as me. Go figure.
I guess the moral of this story comes down to what my college professors told me: you can always find statistics to support your thesis, no matter what it is. And maybe there's some truth to that.
There are days when I feel like I've got a target for bad luck plastered on my head, that if I was a betting girl, I'd be heading home empty-handed.  Yet on days when my cup runneth over, I can just as easily "prove" the world is a small, friendly place filled with good karma and it-was-meant-to-be destiny. So after going through a long stint where I've felt like the world is set against me, I've decided I'd like to start spending a greater percentage of my time looking at life through rose-colored glasses. A world where the odds are squarely in my favor sounds pretty sweet to me.
Statistics can be made to prove anything – even the truth.  ~Author Unknown