There's nothing like a cup of fresh espresso, particularly if one is fortunate enough to drink it in the city of light. Sitting at a sidewalk café and sipping from our demitasse, Big Papa and I watched the world go by, Parisian style.
Across the street at a butcher's shop, two little girls stood outside waiting for their mother. Dressed in pink and red they coordinated with the colors of the shop to a 't.' Small dogs sat on the laps of doting owners. Cigarettes hung between fingertips of passersby. The white noise buzz of cars and conversation played in the background.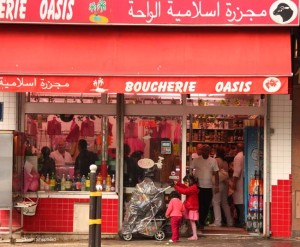 This scene was repeated over and over on street after street. Cafés spilled out along avenues as large as rivers and sandwiched themselves into corners on the tiniest of crooked side streets. Friends, lovers, parents, and students nestled two by two at petite tables, hands holding warm porcelain cups, musing about life.
In Seattle we have many fine restaurants. There are outdoor farmers markets and high end organic grocery stores. But we do not have a café culture like they have in Europe. Starbucks may say they try to create the "third place" and indie cafes might attempt to emulate international coffee culture by placing a few tables outside, but it's just not the same. Maybe it's the weather (this year's non-stop rain isn't exactly conducive to sipping street-side or maybe (more likely) it's our social culture – the rush, rush, I need my coffee and I need it now. To go. Or folks sit silently staring at their laptops or texting away madly on their iPhone.
During our recent jaunt to Paris, I also noticed that café goers with an open laptop beside their cuppa java were far and few between. Sure there were iPhones and Paris is hardly anti-technology, but most of the people we saw not only managed to make it through a cup of coffee or two and actually interact with their companions, they even seemed to enjoy it.
I found it refreshing. Taking the time to disconnect electronically and reconnect with one another seems to be rapidly disappearing art in the 'ole U.S. of A. And while there were many things I was grateful to come back stateside to, a slow cup of espresso and a good long chat shared with someone you care about, was a perk of Europe I was sad to leave behind.
I had some dreams, they were clouds in my coffee.
~Carly Simon
Want to sip on some more? Check out Wanderfood Wednesday!