It's unbelievable! It's a miracle! It's a TV dinner! It's Wonkavision. It could change the world!
~Willy Wonka and the Chocolate Factory
Cherries of every size and hue hung like the queen's jewels along the branches. Ruby-red Kionas, marigold yellow Rainiers with blushing hints of rose and deep burgundy Santinas. And that was just the beginning. There were Skeenas and Reginas, Tieton and Benton, Chinook and Cowiche, not to mention one of my favorites, the yet-to-be-named 71-43-3. I think I saw every variety of cherry known to man in this scrumdiddlyumptous orchard, except Bing, because this orchard was about so much more. I had definitely landed in the everlasting gobstopper world of cherries.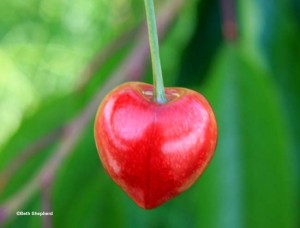 Cherries that would grow to be the size of a ping pong ball drank in the 75-degree rays of Yakima sunshine and puffed up their round shoulders. Heart-shaped cherries, that practically begged to  float on a bed of Chantilly cream and be nibbled by young lovers, cuddled en mass between emerald green leaves.  That's right, heart-shaped cherries.
Snozzberries? Who ever heard of a snozzberry?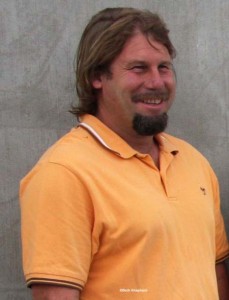 In the middle of this entire splendor is Mark Hanrahan, of Knight Hill Farms, the delightful master of a very impressive cherry kingdom. He shepherded his flock of eager tasters (on a "learn about cherries from tree to table" tour) up one lane of trees and down the other calling out to us as we passed variety after variety like a revved up Willy Wonka guiding his cast of characters through the wonders of the chocolate factory. "Come over here and look at this one. It's my favorite!" he tells us and off we trot, grabbing a handful of this and stuffing one or two of that into our bags and our mouths as we traipse along acres and acres of cherry heaven.
Practically prancing from row to row like a kid visiting Disneyland for the first time, it's obvious that Mark is both extremely passionate and knowledgeable about growing cherries. "Do you grow apples too," asked one naïve soul. "No. I don't like apples. I like cherries" was his salt-of-the-earth response.
During our time in his orchard, I learned more about cherries – specifically growing cherries – than I ever could have possibly imagined. For example, who knew UFOs weren't those unidentified flying objects in the sky but rather "upright fruiting offshoots," a cherry training system born in the research orchards at the WSU Irrigated Agriculture Research & Extension Center in Prosser. Cherry trees are planted at an angle of 20 to 30 degrees, and tied to a trellis wire, like espaliered apple trees.
Mark is one of a handful of growers who've been experimenting with UFO-type systems over the past few years. He estimates that UFO trees yield about three times as much fruit, though he is quick to tell us that that the real pay-off is in the in the quality, not the yields.
Aside from UFOs, Mark sees the future of cherries in more varieties of cherries to suit diverse palates; mechanical picking, where trees are shaken by a machine, not a person, with the fruit falling into a basket; and,"stemless cherries," varieties coaxed through genetic research to a point where the cherries "will easily dislodge from their stems. Mark's ideas aren't just lofty [cherry] pie in the sky fantasies. Cherry research (much of it at Washington State's own WSU) supports a wide-range of cherry developments from new rootstocks to innovative growing and harvesting methods.

So much time and so little to do. Wait a minute. Strike that. Reverse it.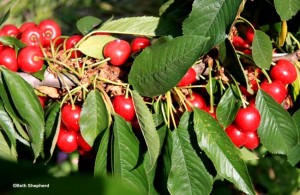 Of course one can't walk past cherry tree after cherry tree without so much as a nibble. And lucky us, because we'd been given a quart-sized baggie and clear instructions to sample to our heart's content. In fact, Mark urged us to taste, taste, taste…and report back to him. Did we fancy the crunch of this cherry or the acidity of that cherry? Which variety did we like best?
So taste away we did. If Mark was Willy Wonka then I was most definitely Violet (or more aptly Cherry) Beauregarde: "Oh-my-god-this-cherry-is-so-amazing-I-must-have-MORE!" Certainly at any moment, someone was going to turn in my direction and say: "She's swelling up! Like a blueberry!" Except in my case it would be like a cherry.
Along with twenty other happy campers, I spent a delicious hour or two stuffing myself silly with red roly-poly stone fruit. We ambled along picking willy-nilly from this tree and that, sweet cherry juice dripping from our lips, staining our fingertips and filling our bellies to the brim.
I want you to roll Miss Beauregarde into the boat and take her along to the Juicing Room at once. 'Kay?
It was glorious afternoon indeed enjoying the fruits of Mark's labor. His dedication to the genus Prunus is admirable. If ever cherries can be considered cutting edge, the cherries in this orchard can. And, if anyone has the vision and ability to make it so, it's Mark Hanrahan.

We are the music makers… and we are the dreamers of dreams.
Hungry for more? Check out all the deliciousness in Wanderfood Wednesday!