"Look what I've got" said the pint-sized voice, small arm outstretched, humongous mussel in hand. "Wow." I said enthusiastically. "That's really something!"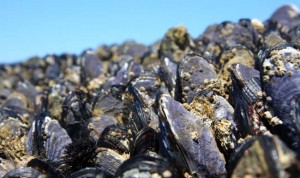 And it was. Iridescent blue and purple reflected the sunlight. Bits of seaweed, probably from the mussel's last meal hung like a limp green curtain from its shell. This little kid held one impressive mollusk. One of, maybe a few million, that clung to the rocks of Tongue Point like the endless sea of soldiers in Emperor Qin's Terracotta army. His find was just the tip of the iceberg in terms of what lay beneath the surface…and on the surface when the tide was low.
Tongue Point reaches out into the wild waters of the Strait of Juan de Fuca from Salt Creek Recreation Area. It has a stellar reputation for some of the best diving and tide pools the northwest region has to offer. The border between the U.S. and Canada is almost spitting distance, running up the middle of the strait.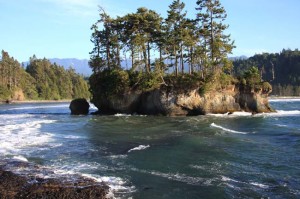 Big Papa and I were camping stateside for three days to ring in my 51st year. It was our first camping trip together. With us was our brand spanking-new tent from REI and all the usual camping accoutrement.
For both of us, camping was something we'd each done, but never together and not for a loooong time. My last night spent in a tent was a good six or seven years ago and Big Papa could count back more than two decades. I think each of us had our reasons (excuses?) for not finding a way to do it all these years. Not having someone to share it with played an active role in the putting it off as the years slipped by.
We spent a bunch of time (and a good chunk of cash) getting outfitted and making lists of what we each remembered to be useful. You can't plan for every contingency and having to "wing it" on occasion is part of the fun anyway. As long as we were safe, dry and fed it seemed like it would be a "successful premier" on the balance.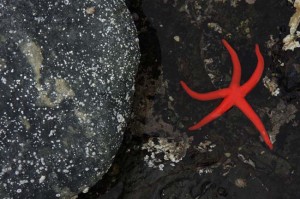 Our first night was a bit uncomfortable (we determined that Thermarest mattresses filled with too much air are like sleeping on a board). The wind howled outside like a train running through an endless tunnel (the next day the camp host appeared at our site to "apologize" for the excessive wind that plagued campsites overlooking the strait). Neither of us managed to get a good night's sleep. But after a rousing cup of coffee prepared on the camp stove, and a trek to the water's edge to be greeted by a vast assortment of marine treasures, things began to look up.
Pretty soon we were on a roll, chalking up memorable moments at every turn. We saw ocean critters we'd never seen before: an enormous sea sponge, a giant Pacific Chiton, blood stars galore and starfish of every hue and size. Sea spray thundered and shot above our heads as it danced over rocks at the edge of the shore. We took side trips to the majestic Olympic mountain range at Hurricane Ridge and sat in the sun by the placid turquoise waters of Lake Crescent.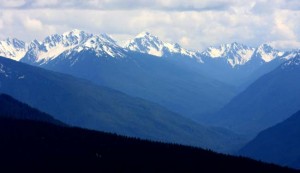 Back at our campsite, we devoured fabulous omelets at breakfast and whipped up gourmet s 'mores (amazingly, a first for Big Papa) for dessert. The usual furry suspects made amusing visitors even with their occasional attempts at stealing our grub. We nestled into our little spot by the sea and found ways to make our temporary tented home cozy and sleep-friendly.
At the end of the trip Big Papa and I agreed we'd done our first camping excursion proud. He aptly said that while it might have been a bit of a stretch for us (this was not a cushy B&B like those in many of our travels), we pulled together as a team and made everything work out swimmingly.
More importantly, we had a blast. True, we weren't testing our metal with a backcountry off-road hike and scramble. In the bell curve of roughing it, this wasn't too rough. Still, it was a new angle for us. We made a few notes on what to bring next time (liquid soap and quarters for the showers) and what not to do (nix the ice bag in the car if you want dry clothes at your destination). We are already looking forward to our next adventure.
For me the trip was a good reminder of the delight you can experience when you push your limits, even a little bit, when you try something out of the ordinary and when you shake up your usual routine, even if it's just your vacation routine.
Our three days at Salt Creek helped me to feel inspired to seek out more ways to explore the depths and peek inside dark crevices, to turn over rocks in my life and see what may be tucked beneath them. Because I was pleasantly surprised to discover that the magic found in doing so is immeasurable.
Too many times we stand aside and let the waters slip away, till what we put off till tomorrow has now become today. So don't you sit upon the shoreline and say you're satisfied. Choose to chance the rapids and dare to dance that tide.
"The River" Garth Brooks