Mmmm. Nothing like a little Nyer thistle mixed with some sunflower chips, and millet to wet my appetite. Well, at least nothing like it, if I'm Mr. Finch. Rosy the robin starts her morning nibbling with a few tasty earthworms. Groovy grubs crawling on the ground look dang delightful to Freddy Flicker. And we all know that Mrs. Hummer has a sweet tooth and heads straight for the Scarlet Runner Beans after sidling up to the hummingbird feeder for an appetizer of sugar water.
Yes, I know it's Wanderfood Wednesday and a post on birdie buffet qualifies oh-so-tangentially, but what can I say? My feathered friends are feasting happily these days and the Urban Cabin just became an official 'Certified Wildlife Habitat,™' so I was in the mood to sing the praises of all we've done to put food on "the table" for the denizens who frequent our yard.
Our back-forty is tiny, but what it lacks in size it makes up for mightily in food, both for us human folks and for those who fly, crawl and scamper inside its fenced walls. On the fruit front, Big Papa and I are lucky to host three Greengage plum trees (that are enormously prolific), one small apple tree (that doesn't really produce much), two baby espaliered apple trees, two figs, three blueberry bushes, one huckleberry,  one lingonberry, and a bunch of strawberry plants that substitute for ground cover along our east fence line. Veggie-wise, we've now got four raised beds filled with green stuff (struggling with our abysmal spring but planted nonetheless) plus two raised herb beds.
We're still working on getting our yard back to 100% after the remodel, but slowly and surely plant and animal life is enjoying our garden once again. Cape Fuchsia bloom day-glow pink in one corner, assorted beans start their skyward climb up trellises and brilliant purple salvia beckon.
Besides the fruit trees, plants and flowers, "our" birds can find cover in two gigantic Poplars, (amazingly enough in our pipsqueak urban location) and a scattering of fluffy shrubs. They can take up long-term residence in two bird houses. Three birdbaths pepper the property so there's always a spot for them to spruce up and preen.
I'd heard about National Wildlife Federation's 'Certified Wildlife Habitat™ for some time and finally decided to hop on to their website and find out exactly what would be required to register the Urban Cabin in their program. It's quite simple, really. All you need to do is provide elements from each of the following areas in your yard:
Food sources : native plants, seeds, fruits, nuts, berries, nectar
Water sources: Birdbath, pond, water garden, stream
Places for cover : thicket, rock pile, birdhouse
Places to raise young: dense shrubs, vegetation, nesting box, pond
Sustainable gardening: mulch, compost, rain garden, chemical-free fertilizer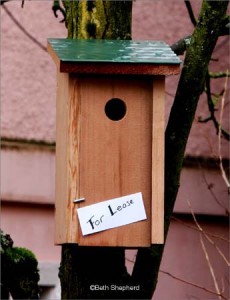 As the NWF site says, "you don't need a 20-acre farm to create a garden that attracts wildlife and helps restore habitat in commercial and residential areas. By providing food, water, cover and a place for wildlife to raise their young, and by incorporating sustainable gardening practices, you not only help wildlife, but you also qualify to become an official Certified Wildlife Habitat™."
Alright then, let's find out how the Urban Cabin stacks up:
Provide food for wildlife: Several mature trees and an assortment of nectar, berries, and seeds that many species of wildlife require to survive and thrive. Plus, we have a few supplemental feeders.
Supply water for wildlife:  Bird baths and one rain chain.
Create cover for wildlife: Shrubs and nesting boxes offer places to hide in order to feel safe from people, predators and inclement weather.
Offer a place for wildlife to raise their young: One Mason bee box, two birdhouses and bushes where butterflies and moths can lay their eggs.
Sustainable gardening: Composter, mulch, minimal chemicals and virtually no "turfgrass."
Check, check, check, and check. Big Papa and I submitted our application. The Urban cabin will soon take its place alongside thousands of wildlife enthusiasts across the country who have turned their yards and gardens into Certified Wildlife Habitat™.  How cool is that?
Of course the birdies couldn't give a tweet about any of this. All that matters to them is that the "all you can eat" Urban Cabin Bar and Grill remains open and no one cries fowl at the feeder.