"Breeep, breeep, BREEEP!" The sharp piercing staccato of our fire alarm fills the airspace. Big Papa and I are making Shepherd's Pie from scratch and setting off the fire alarm is part of our annual tradition.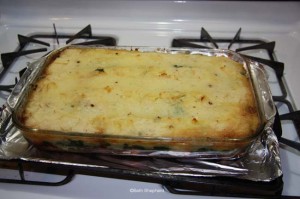 For each of the five Christmas seasons we've been a couple, Shepherd's Pie has been on the menu. I got the idea since Big Papa is a 'Shepherd.' Now that I'm his Missus, I'm a Shepherd too. I searched many blogs and scoured cooking sites reading recipes and trying to find the one with glowing reviews. Gourmet Magazine, February 2001, Braised-Lamb Shank Shepherd's Pie with Creamed Spinach was the winner.
This particular Shepherd's Pie takes an entire day to create. The dish calls for several layers: mashed potatoes, creamed spinach, roasted carrots, and gravy. Mid-way through the day, our kitchen is piled a mile-high with pots and dirty dishes. It's hard to believe all this mess will result in a truly amazing meal. Six hours of work later, all this divine deliciousness will land in one baking dish.
Big Papa helps. He picks off the pieces of lamb after it's been roasted three times. Yes, three times. The roasting is part of the process which inevitably sets off the fire alarm. We laugh about the alarm and, truthfully, something would feel amiss without it.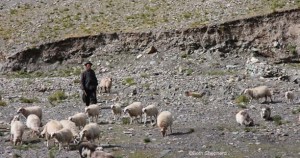 A few herbs from our winter garden add backyard flavor: thyme and rosemary and sage (though sage is not listed in the recipe). Despite the prep being labor-intensive, it's a relaxing way to spend the day. We open a bottle of champagne to drink while cooking and take breaks to open gifts or make phone calls to family.
Making Shepherd's Pie for the Christmas holiday is one of the first traditions Big Papa and I started together. I like feeling a small connection to 'shepherds' who have come before us and shepherds around the world. Last fall, when we toured Tibet, we saw many shepherds high in the Himalayas herding sheep and yak. Stopping at one mountain pass, two shepherd boys approached us. Our guide, Tenpa translated for us and we told the boys our ancestors, many generations ago, were also shepherds.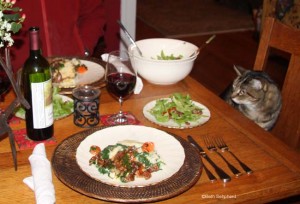 As our Shepherd's Pie bakes, it fills the Urban Cabin with a wonderful aroma. When it's ready to eat, we light candles and sit in our cozy, deep red dining room to enjoy this meal. Big Papa picks out a good wine from our "cellar" – aka the dirt floor basement of the Urban Cabin. Maggie, the cat, sidles up to the table. We talk about Shepherd's Pie making past. Remember last year when…each year has its own unique story.
I am completely at peace.  Despite several challenges this year, we are so fortunate to be able to enjoy such simple pleasures: the Urban Cabin, a good meal and each other.

Braised-Lamb Shank Shepherd's Pie with Creamed Spinach
Makes 6 generous servings
Active time: 1 hour
Total time: 5-1/2 hours
Ingredients
5-1/2 pounds large lamb shanks (4 large)
2 tablespoons extra-virgin olive oil
2 small onions, trimmed and quartered do not peel)
1/2 cup fresh thyme sprigs
1/2 cup fresh rosemary sprigs
1/2 cup dry white wine
1-1/4 cups beef broth
1-1/4 cups water
3 pounds russet (baking) potatoes (6)
1-1/4 to 1 1/2 teaspoons salt
3/4 cup whole milk
5 medium carrots, cut into 1/4-inch-thick slices
1/4 cup all-purpose flour
Creamed spinach
2 tablespoons unsalted butter, melted
Special equipment: a ricer
Preparation
Prepare lamb:
Preheat oven to 450°F.
Put lamb shanks in a large metal roasting pan, then rub with oil and season with salt and pepper. Arrange onion wedges around lamb. Roast lamb in middle of oven 40 minutes. Turn shanks over, scatter with herb sprigs, and roast 40 minutes more.
Pour wine, broth, and water into roasting pan. Cover pan tightly with foil and braise lamb until tender, 45 minutes to 1 hour. Transfer shanks to a plate and remove and discard skins from onions. Pour cooking liquid (including onions) into a large glass measure (do not clean roasting pan).
Prepare potatoes and boil carrots while lamb roasts:
Pierce each potato once with a fork and bake on rack in lower third of oven until cooked through, 45 to 50 minutes.
Cool potatoes 10 minutes, then halve lengthwise and scoop out flesh. Force warm potatoes through ricer into a bowl. Stir in salt, milk, and pepper to taste.
Cook carrots in boiling salted water until tender, about 10 minutes. Rinse under cold running water to stop cooking.
Make gravy:
Skim fat from cooking liquid (you'll have about 2 1/2 cups broth). Whisk together 1 cup broth and flour in a large bowl to make a thin paste, then whisk in remaining broth (including onions). Set roasting pan across 2 burners and pour broth mixture into pan. Boil over moderate heat, whisking, until thickened, about 5 minutes. Remove from heat and season with salt and pepper.
Cut lamb meat from bones, then tear meat into bite-size pieces. Stir meat into gravy.
Assemble and bake pie:
Reduce oven to 350°F.
Spoon lamb-shank mixture into a 12- by 3-inch oval gratin dish or a 2 1/2- to 3-quart shallow baking dish, spreading evenly. Scatter carrots over lamb, then top with creamed spinach, spreading evenly. Top spinach with mashed potatoes, spreading evenly to edges of dish to cover filling completely. Make swirl patterns on surface of potatoes with back of spoon, then drizzle with melted butter.
Put baking dish in a foil-lined shallow (1-inch-deep) baking pan to catch drips and bake until top is golden and filling is bubbling, about 1 hour.
Cooks' notes:
Lamb shanks can be made 1 day ahead of assembling shepherd's pie and chilled, covered. Bring to room temperature before proceeding.
Mashed potatoes can be made 1 day ahead of assembling shepherd's pie and chilled, covered. Bring to room temperature before proceeding.
Shepherd's pie can be assembled (before being drizzled with melted butter) 1 day ahead and chilled, covered. Let stand at room temperature 1 hour before drizzling with butter and baking.

Creamed Spinach
Makes 4 (side dish) servings
Start to finish: 30 min
Ingredients
1-1/2 lb baby spinach
1/2 small onion, finely chopped
2 tablespoons unsalted butter
2 tablespoons all-purpose flour
1 cup plus 2 tablespoons warm milk
2 tablespoons freshly grated parmesan
1/2 teaspoon salt
Pinch of freshly grated nutmeg
Preparation
Cook spinach in 1 inch of boiling salted water in a large pot, covered, stirring once or twice, until wilted, 1 to 2 minutes. Drain in a colander and rinse under cold running water until cool. Squeeze small handfuls of spinach to remove as much moisture as possible, then coarsely chop.
Cook onion in butter in a small heavy saucepan over moderately low heat, stirring, until softened, about 4 minutes. Whisk in flour and cook, stirring, 2 minutes. Add warm milk and simmer, whisking, 3 to 4 minutes. Whisk in parmesan, salt, nutmeg, and pepper to taste. Add spinach and cook, stirring, until heated through.
Cooks' note:
Spinach can be made 1 day ahead of assembling Shepherd's pie and chilled, covered. Bring to room temperature before proceeding.
Check out the WanderFood Wednesday series for more great food postings!