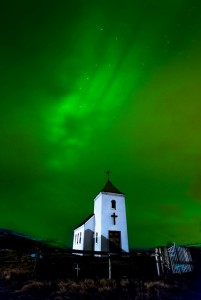 The haunted darkness of Iceland's winter months breed ancient legends of ogres,elves and mysterious heavenly lights. And an Iceland Christmas is no exception.
One such tale has impish elves sneaking into town and drinking milk, stealing biscuits (or wooden spoons) and licking all manner of dishes. The thirteen Jolaveninar, also known as Icelandic Yule Lads, are said to be the children of an ogre named Gryla. Gryla also prowls the town looking for naughty children to throw into her cauldron. Her big black cat (known as the Christmas Cat) stalks the country on Christmas Eve and will eat any Icelander who has not received a new piece of clothing for the holidays.
Side note: Can we talk about how much I love the idea of a Christmas Cat being part of a country's holiday history?
In the past, for each of the thirteen days before Christmas, these mischevious elves would sneak into town to reek havoc. But time has mellowed the Lads and now they leave one present for each child every day. The children leave a shoe on their bedroom windowsill in hope of a treat but if they've been naughty they will find a rotten potato.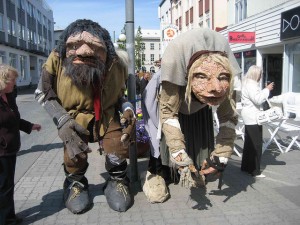 Here is a list of the Yule Lads (with English translations) in order of appearance:
Stekkjastaur (Sheepfold Stick) – December 12
 Giljagaur (Gully Oaf) – December 13
 Stufur (Shorty – also knows as Pan Licker) – December 14
 Pvorusleikir (Spoon Licker) – December 15
 Pottasleikir (Pot Licker) – December 16
 Askasleikir (Bowl Licker) – December 17
 Hurdaskellir (Door Slammer) – December 18
 Skyrgamur (Curd Glutton) – December 19
 Bjugnakraekir (Sausage Pilferer) – December 20
 Gluggagaegir (Peeper) – December 21
 Gattapefur (Sniffer) – December 22
 Ketkrokur (Meat Hook) – December 23
 Kertasnikir (Candle Beggar ) – December 24
Snow White's dwarves naughty brothers come to mind and I can just imagine them traipsing through the winter wonderland of Iceland, Northern Lights dancing in the heavens as they drag bags of presents to town.
Photo Credits:
Diana Robinson – Creative Commons
Trish Hamme – Creative Commons
David Stanley – Creative Commons
Andres Nieto Porras – Creative Commons
Follow me at findyourjenjoy