There's a wild burro in my car!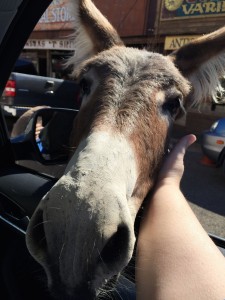 We are in the old gold mining town of Oatman, AZ on historic Route 66 where wild burros roam the streets.
About thirty miles west of Kingsman, AZ the original Route 66, known as "The Route" to those that whose travel it, runs through the Black Mountains. Switchbacks cut through the rocky terrain making it hard to imagine a time when it was the main gateway to California.
As we drop into the flat valley on the far side, stone remnants of the Goldroad Mine greet us. Two miners hit the  motherlode in this area in 1915 causing the populations of Goldmine and Oatman to swell with both people and mules.
After the gold rush ended in the 20's the mules were set free.  Protected by the Bureau of Land Management, 1500 hundred wild burros now roam these mountains. (In case you are wondering, a mule is domesticated, a burro is wild but they are the same animal.)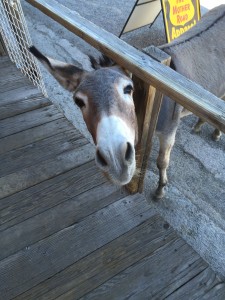 My dad and I are on a cross country road trip, moving me and my three cats from Nashville to Los Angeles (more posts on THAT adventure to come).On a trip that is all work and no play, we decided to take a detour and check out this living ghost town.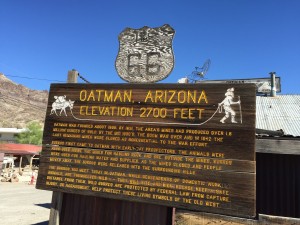 A short strip of mismatched wood and adobe businesses populate this section of Highway 66.
The  eight room Oatman Hotel is the standout historic structure. The oldest adobe building in the county, it was originally constructed in 1902. Several fires almost wiped out the town and although damaged, the hotel survived. Rumored to be haunted by the a variety of miners that once lived in the hotel, its main claim to fame is that Clark Gable and Carole Lombard spent their wedding night there. Over the next few years, the famous couple often returned and legend has it that Clark spent many hours gambling with the miners.
The other businesses cater to the tourists and sell small bags of alfalfa chunks to feed the dozen or so burros that roam the streets looking for a meal. My father and I quickly buy a few bags and within seconds are surrounded. Velvety noses nuzzle us and pleading brown eyes vie for our attention and soon our bags are empty.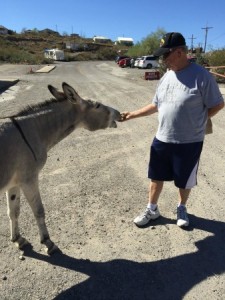 (Note:  The baby burros have stickers on them to remind tourists not to feed them since they are still nursing.)
We only spent a few minutes in Oatman (remember I had cats in the car) but were touched by the magic of these animals. There is something remarkable about a wild animal allowing you to feed them, pet them and know them.  If you happen to be anywhere in the vicinity of this area, it is worth the nail biting drive to experience it.
Subscribe to Luxury Nomad.
Follow me at findyourjenjoy
Facebook
Twitter
Instagram
Periscope