Rainforest Chocolate Tour in La Fortuna Costa Rica sits at the base of the inactive Chato Volcano. The misty clouds that  cover the mysterious peak give way to the roaring La Fortuna Waterfall.  On the road to the waterfall sits the cacao plantation that hosts this two hour artisan chocolate experience.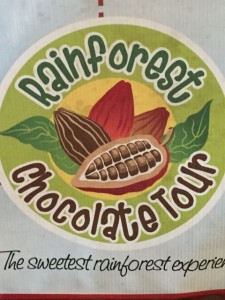 Have you ever considered a world without chocolate? I shudder to think about it. We consume four million tons of the stuff annually. It's such a daily ritual that its hard to believe that the first evidence was in Mayan artwork as recently as 750 A.D.
Even then it wasn't the processed sugary confection we currently devour. Cacao, mixed with corn, chili and vanilla, was made into a frothy drink. Only served to royalty and shamans, they consumed up to eight liters a day. Imagine the caffeine high they maintained!
When the Spanish arrived in the 1500's, they added cinnamon and sugar to the cacao and our modern day chocolate was born. They shipped the treat back to Spain and it quickly spread to the rest of Europe as a drink. It wasn't until the 1900's, when we learned how to produce it in a solid bulk form that it became available and affordable for the masses.
Being a lover of all things sweet I was thrilled to learn how to make artisan chocolate. Erica, our tour guide and educator was the perfect person to teach us. Her love of the cacao plantation and her native Costa Rica was as infectious as  her smile.
Our tour group was small, about ten people, and Erica spoke fluently to us in Spanish and English. After receiving a brief history lesson about cacao and chocolate, Erica led us thru the plantation to the outdoor kitchen.  There we were joined by Ginnett, our chocolatier, another Costa Rica native.
EIGHT STEPS TO MAKING ARTISAN CHOCOLATE
When the seeds are harvested, they are covered in a white slimy pulp. We each pop one in our mouths to taste the slightly sweet flesh. Inside is a very bitter purple bean.
FERMENTATION: Cacoa beans are placed with bananas and after a day they turn acidic. This stops the fermentation and turns the beans brown.
DRYING: Placed in open aired containers, they are sundried. This process takes four to seven days depending on the weather. We taste the beans again and they have begun to have a familiar chocolate flavor.
ROASTING: In Costa Rica, chocolatiers use a wood fire to cook their beans. About twenty minutes is all it takes for them to begin popping like popcorn, which indicated they are done. We taste them again, directly from the stove and they are warm and bitter in our mouths. (This is the point where cacao becomes cocoa.) 
SMASHING: Using a huge stone pestle and wooded mortar, the beans are finely ground, releasing oils (also called cocoa butter). The chocolate smell permeates our kitchen.
SIFTING: The ground cocoa is sifted between two hollowed out gourds. The ancients would call forth Julian (the wind) to help them separate the shells left in the powder. We finally have cocoa nips.
PASTE: Pressed together, a paste is created. Only women (and now tourists) were allowed to create the paste. Again we taste a small handful and it smells like chocolate but is still bitter.
MAKE A TREAT: We have created a creamy concoction of chocolate that is 80% cocoa and 20% butter. There is no limit to the number  spoonfuls we are allowed and the flavor combinations are endless. Many people try the original cacoa mixture of corn, chili and vanilla. I opt for sugar, orange oil and hibiscus. Erika prepares her famous Erika Surprise for several guests. It consists of sea salt, chili, nips, almond oil, raisins and coffee.      
8.  CHOCOLATE BARS: At the end of the presentation and tasting we are each given a small burlap bag with fifteen cacoa beans in it. We are free to keep them or trade them in for small chocolate squares. I can't resist and trade mine in for a taste of the 70% cocoa confection. These treats are created after a 24 hour hot/cold process done off site. I let it slowly melt in my mouth, feeling the sweetness and caffine seeping into my body. Maybe it was sweeter because I now knew the delicate process from which it came and maybe I treasured it more because of the meaning it had to its Mayan creators. Or maybe I tasted the pride and love that the local Costa Rican people put into making this ancient delicacy. It was the best chocolate I've ever had.
******************
Choose your chocolate wisely. I urge you to learn more about where your chocolate comes from and buy bars marked with the fair trade seal.
If you'd like to learn more, please watch the documentary, "The Dark Side of Chocolate".