While I certainly don't advocate over scheduling your vacation, a little exploration when spending a week in the beautiful Caribbean islands of Turks and Caicos is a must. Aside from wandering the many beaches of Provo, here are a few of the best things to do while visiting Turks and Caicos.
Get off Provo: Explore the islands that make up Turks & Caicos, including North and Middle Caicos, by chartering a boat for a day.  Here is a very complete list of boat charter companies. Or ask your hotel or villa rental company for suggestions. Snorkeling, conch diving and a boat full of rum punch. Does it get any better?
Sea Kayaking: Just about every villa on the island comes with a few kayaks and hotels have them readily available. What's so great about kayaking here? The red and black mangroves are home to young fish and plenty of birds and make for beautiful, quiet and protected paddling ground.
It's also a great way to view the mainland, get some exercise and burn off all that rum punch from the day before.
Try the Conch:  One thing is for sure, Turks and Caicos is all about the conch. Visit the peculiar conch farm, or take a tour of some of the richest conch fishing grounds in the world with a charter operator (see above).
Da Conch Shack is an institution on Provo as well.  While it's marketed as a local dive bar, Da Conch is really a touristy hot spot. While the food here is decent at best (mostly fried) it's a fun, feet-in-the-sand, purely Caribbean experience.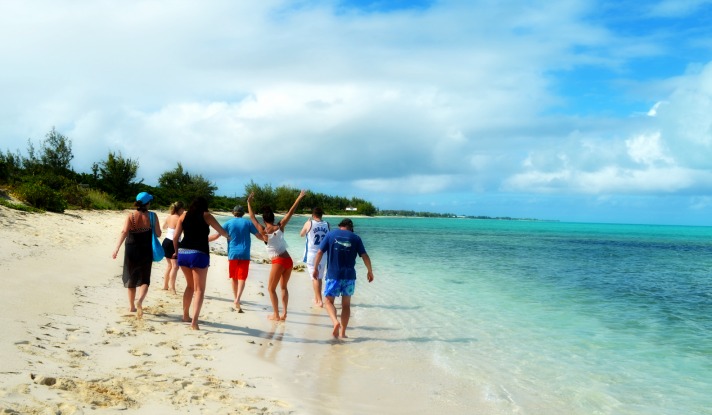 Check out the glow worms: Each month this natural display of underwater bio-luminescence takes place.  Three to six nights after a full moon about one hour after sunset for 15 minutes you can watch millions of glowworms light up the shallow water with a green glow as they come out to mate.  The show is over quickly though. And when the mating ritual ends and the female glowworms eat the males. Yikes.
What other activities should not be missed in Turks and Caicos?