For the better part of a decade, I regularly made the 24-hour door-to-door journey from my home in Denver, CO to Nairobi, Kenya, where I was working. After a few lost and damaged checked bags and a number of aggravating shuffles into hotel elevators, battling with a bulky suitcase and computer bags (granted this was before my beloved MacBook Air!), I decided carry-on packing was the only way to travel.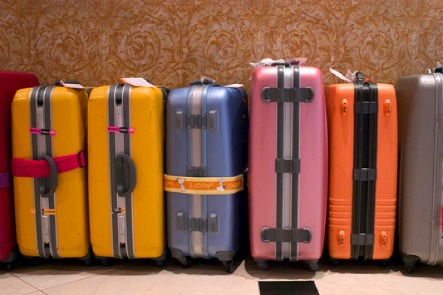 Over the years, I have developed the perfect carry-on packing strategy that works for just about any destination worldwide. And the good news for luxury travelers; when you're traveling in style it's actually easier to pack light. Here's why.
Do laundry while traveling.
Most every high-end hotel I've stayed at around the world offers extraordinary laundry service. I find that travelers are often hesitant to send clothes for laundering while on the road, but don't be! Your clothes will come back freshly pressed and smelling great. And sometimes laundry is even included in the price, for example while safari in Africa.
Before you travel, take time to select and pack clothes that can be laundered "rougher" than you may do at home. For example, if you're on safari in Africa your clothes will be washed by hand in a bucket of water and hung to dry in the sun. But don't be surprised when every item you send, even socks, come back perfectly pressed and folded! Just leave the delicate fabrics at home.
Here is an awesome site I found about packing light for travel. Their minimalist packing tips are particularly helpful.
Leave clothes as you go.
Consider packing clothes you might be close to donating or otherwise disposing of.
If your itinerary is compartmentalized, such as safari or some sort of outdoor activity up front and the beach during the second half of your trip, donate your safari/outdoor clothes to the housekeeping staff  when you check out. Just be sore to leave a personal note saying you are donating the items, otherwise many hotels won't allow staff to them take the items.
On longer overseas trips, I also pack my old underwear and throw them away each day, lightening the load as I go and freeing up more room for shopping along the way!
Follow the rule of 3's when it comes to shoes.
When traveling to warm destinations, I always bring black Havaiana flip flops, one pair of black sandals with heels, and running shoes.  While of course warm weather packing is much easier and less bulky than packing for cooler climates, be sure to always limit your total number of shoes to three.
Don't leave home without these four items.
I have a small bag that lives in my carry-on. Before I start packing for any trip, these four items go in first. I've never regretted having any of these while traveling, they don't take up much room and make your life so much better while on the road.
1. Plastic grocery store bags. I pack 3-4 of these bags and they always come in handy. I've used them to cover my camera while on safari to protect from the dust, pack shoes, and store dirty laundry.
2. A headlamp. Especially if you're traveling somewhere more remote, you'll want to have this in case you want to read at night and you're staying somewhere with no electricity (for example on safari in Africa, generators are often turned off in the evenings). A head-lamp also comes in handy for airplane reading, as it's less annoying to your neighbor than the overhead light. There are a number of lightweight options, just go to REI and shop around.
3. Sunscreen. While most any toiletry can be purchased on the road, I find it hard to find my exact brand of sunscreen. Pack one that you can use on face and body to cut down on bulk.
4. Snacks. If you don't have time to grab lunch between flights, get stuck on the tarmac or have a long wait in customs upon arrival, you won't regret having a granola bar, cheese stick or some turkey jerky along.
Extra Credit: Record the Contents of Your Suitcase.
Before you leave, take pictures of everything in your suitcase, including clothes, shoes, and jewelry, so it's all documented if your bag is lost or stolen. Email the photos to yourself, and also keep the photos on your smart phone so they are easy to access while you're traveling.
Have you tried any of these packing light tips? What other smart packing tips have worked best for you?

Photo Credit:
Creative Commons