It's been a challenging spring for me in terms of life changes and struggles, and I've found as always that the woods are a place that brings me peace and solace. We've had a mix of weather here in Massachusetts, which has made springtime hiking that much more…well…muddy. I've had some excellent opportunities to test out Vasque's Grand Traverse Multi-Sport Shoes, specifically designed in mind for springtime hiking.
One major factor in springtime hiking is slippery, wet surfaces. This is the most common of complaints when hiking in March or April in New England. It was a major concern for me when I went for a day hike with some friends in Burlington, Vermont. It was a beautiful, sunny day where the trail was clear and dry at the beginning of the hike, but as we climbed, we hit ice and snow.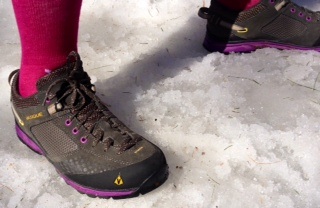 I was amazed at how sturdy I felt on such icy and slushy terrain as the shoe tread grips extremely well. While my friends wore running shoes and other cross training shoes, I was the steady one hiking up and down the slippery surface.
The tread was also impressive when I was hiking in the Berkshires the following week in muddier conditions. As I climbed the shoes gripped well and I was able to make it up the hill with relative ease. I did though have to be careful, as the shoes were not waterproof, and I couldn't get too deep in the real slush, as my socks got wet near my toes.
As I hiked down in both the ice and mud, my feet felt well-cushioned and well-supported in my heel area. I did find that since the shoes came up to my ankle height, that I didn't feel any support on my ankles in case I was carrying a heavier backpack. I did find  them light and excellent for a day hike.
What I loved: 
Excellent traction and tread grip when hiking on slippery surfaces.

Nice pop of color.
Well supported heel and arch.
Runs true to foot size-no need to order larger or smaller.
Not so much: 
Not Gor-tex lined, can get wet feet if step deeply in mud or slush.

No ankle support.
The Grand Traverse is a shoe for those that want to have more support when hiking than a cross-training shoe but don't want the extra bulk of a hiking boot. You can buy the Vasque Grand Traverse here on Amazon for $129.95.
Adventure On, 
Joslin
All photos taken by Joslin Fritz.