"Only those that risk going too far can possibly find out how far one can go." -T.S Eliot
Maybe you know someone whose dream it is to hike the Appalachian Trail (AT). All 2,181 miles of it. Or perhaps walk the 2,650 miles long Pacific Crest Trail that stretches from the border of Mexico all the way to the northern tip of Washington near Canada.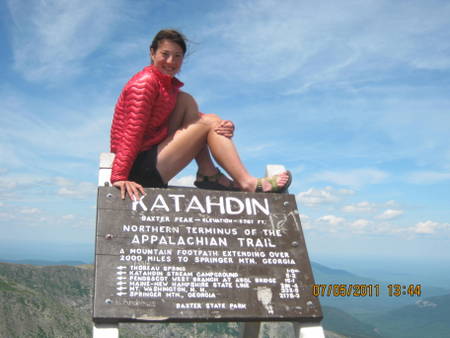 Meet Liz Thomas, who not only hiked both of these trails (hiking the AT not once but twice!), but ALSO the lesser known 3,100 mile Continental Divide Trail. If that wasn't
enough, Liz broke the record for the fastest women's unsupported hike of the Appalachian Trail in 2011, finishing in 80 days and 13.5 hours. Liz is a trailblazer (no pun intended) in the sport of long distance adventure backpacking, and recently I talked with her about her achievements, future goals and her luxury item she allows herself.
What inspires you to hike?
To me, hiking is just so much fun, it's when I feel the most alive. I enjoy all parts of long distance hiking-the planning, organizing, and then finally being on a trail. Living simply, covering ground, and being in wilderness is very rewarding. I've met the most amazing people on my treks and many of them have become lifelong friends.
What was the turning point when you realized you wanted to be a long distance ultra-lite hiker for more than just a hobby?
The turning point for me was when I broke the women's unsupported speed record for hiking the Appalachian Trail in 2011. It was then that I thought to myself, hey, I'm pretty good at this. Maybe I could be a role model for others who want to ultra-lite long distance hike. I attribute the fact that I was able to beat the record by one week, which was set in the early 1990's, to being smart about my down time, hitting the trail in great shape and also hiking the AT one time already.
Have you ever been scared of hiking alone as a female?
I've been caught in thunderstorms, hail and snow, but I've never been scared of hiking alone as a female. I've found fellow hikers and those in nearby towns to be incredibly welcoming and warm to me, although as a precaution, I prefer to walk into towns to resupply instead of hitchhike. I think you have to have good self awareness when you're hiking solo, to really know when to stop because you're hurt or to take a rest day. My parents always worry when I am on my long hikes, and so I carry a smartphone and try to call them every few days. Surprisingly there is good cell reception on a good chunk of the trails I hike.
Have you ever gotten lost?
Sure. In fact, on the Continental Divide Trail in one guidebook they forewarn hikers to be prepared to get lost for 3-4 hours a day. I didn't get lost that much, but I did from time to time. Considering only 30 or so people hike this trail a year, I did pretty well. Route finding is about choosing landmarks and directions and not being afraid to just go, even if there's no trail beneath your feet. It is also about accepting when you're wrong and being willing to go back. One time on the Pacific Crest Trail the path was covered in snow, and I went the wrong way. I climbed to the top of the pass, gaining 1,500 feet of elevation, only to realize I wasn't going the right way. Instead of trying to forge on over a cliff with a noticeable recent rock slide, and connect with the trail ahead, I played it smart and retraced my steps. I lost time but I'm here today.
How much does your pack weigh on these long hikes?
I usually bring around 7-8 pounds of gear, 1 1/2-2 pounds of food per day out and a liter of water. I hike in the summertime when I can carry the lightest load. Wintertime hiking is a whole different ball game.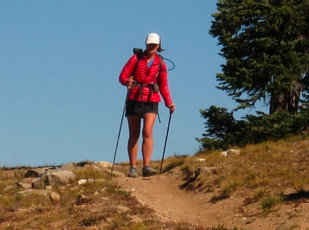 What's the luxury item you afford yourself?
(She thinks for a while on this one). Well, I would have to say my camera. Though it could be seen as a luxury item, I think it's pretty important. OH, I know-socks. I used to only bring only one pair of socks—the pair I was wearing! I'd let it dry out at night, which doesn't always work. The worst part of my day would be in the morning, when I would have to put on cold, wet socks. Darn Tough came out with ultralite mesh socks, which weigh almost nothing. Now I probably carry too many socks with me!
How do you train for these long distance hikes?
I ride my bike, do yoga and go rock climbing in the off season. Also, if I'm running errands, I'll throw a dumbbell in my backpack and wear the backpack around town. It helps it to feel normal for when I'll be carrying around a weighted backpack on the trail.
Kudos to Liz for setting the example of dreaming big, daring to see how far she can go and following her passion. I foresee a Wheaties cover photo any day now 🙂
You can follow Liz on Twitter @eathomas, and her website is www.eathomas.com.