Last night
clouds mingled with mist,
and slowly poured into the valley
buffeted softly against my window.
Mist drank down tall trees, smothered villages.
A primordial ocean of shapes dissolving
There was nothing but this mortal frame separating me from that divine union.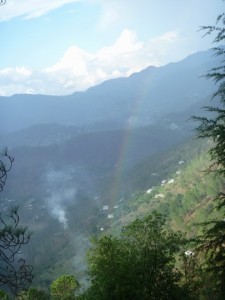 In the night a downpour so heavy it awoke the hidden fear of landslides stirring the locals from their beds.
Come morning, the day has forgiven the night, the forest floor has awoken, rare blooms spring from the soil like dancers from a cake, sashaying across the forest floor.

a dog goes missing
a leopard and her cubs stalk the hills,
don't go walking in the forest says Raju, they are close by
I think of that elegant cat, a creature of mist and smoke and shadows
while I mourn the loss of Jimmy, a dog amongst dogs
He and the cat are both creatures of this divine play where shapes and boundaries dissolve
two noble creatures now one
Photo credit: Mist in the pines from www.indianjourneys.wordpress.com